Article
How the Danish Growth Fund uses machine learning to spot potential
Build skills in-house, involve the entire organisation and make sure it works before you create a dedicated strategy for your effort. These are the Danish Growth Fund's three main takeaways after almost two years of using AI and machine learning models, which they have decided to share with the world.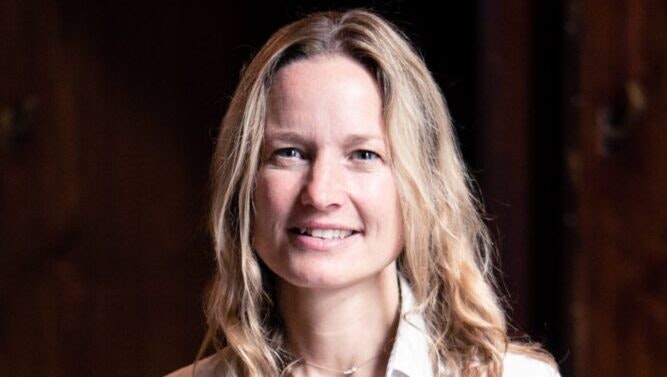 What does the data tell you about your company as a team? Can data in personal profiles and their capabilities be linked to a team's performance, so that data can indicate whether you have a winning team or the opposite? Or can machine learning be used to spot the best sustainable solutions? These are some of the unknowns that the Growth Fund is currently working to implement into their formula.
The state-owned venture fund has been working for almost two years to integrate extensive amounts of data into machine learning models. This will enable the fund to streamline screening and optimise its lending business so that more Danish companies can get access to the right type of capital.
Born data heavy
Although the Growth Fund has always been data-driven, the introduction of machine learning, however, has been an enormous transformation for the 250-man organisation. To give other funds the ability to use their learnings, the Growth Fund has shared both their experience and knowledge with us:
"One of the biggest learnings for us has been that it was important from the beginning to build up the skills in-house. You need someone with the domain knowledge to be able to build the models that provide value. External consultants cannot do this alone," Ditte Rude Moncur, Head of Digitization and Analysis at the Growth Fund explains.
"We have created the models from the inside. For us, it's about how we can best assess the potential and likelihood of business success for entrepreneurs and businesses experiencing growth- segments, that generally are connected to great risk, and where it can be difficult to assess risk and a company's chance of success. That's why we built our efforts up around our chief economist who has been with the Growth Fund for a long time and his wealth of experience working with these types of business performance," she elaborates.
Learning in house
The Growth Fund has followed the same transformation formula as, among others, hearing aid company Oticon: The AI Transformation Playbook by former Google Brain Founder Andrew Ng.
He states, among other things, that AI and machine learning must be driven by the organisation, and that the road to transformation must include trials and tests. Once a foundation of experience has been established, it is useful to add external consultants for feedback, adjustment and lifting to the next level. That recipe has worked for the Growth Fund.
"We started the process by doing our homework and get the right team together. Our chief economist was charged with setting the bar for which competencies we would need and how we could educate the team to approach the task at hand in a singular and stringent fashion. Only after that did we begin to look at the communication strategy." says Ditte Rude Moncur.
"The whole point for us has been to build the competencies of the Growth Fund and run it ourselves. We want to get some way before we get consultants and check out the first models."
No black box
The past two years have thus been about building knowledge of the field and communicating internally about the work. Everyone from the Board of Directors to the Executive Board and the Loan and Credit Department has had to understand the models and the data on which they are based. It is also essential that the models can be used to show more than a thumbs up or down for a potential business.
"We can't build a black box. It's essential to us that we can give businesses who are looking for capital, good feedback. You can only do this if you know exactly why the data has given a certain outcome." says the Head of Digitisation and Analysis.
Optimise the models
The Growth Fund has currently built and implemented a general model for lending capital, a model which in reality is built upon five different models. Each looks at various tasks, and together they provide an example of a company's growth trajectory and the likelihood of bankruptcy as well as insights into which areas the company can be strengthened.
Based on the five models, a perspective company receives a concreate score: red, yellow or green, which depicts it's a company's risk level using data.
In the Growth Fund's universe of machine learning models, it is possible to optimise both the models' ability to evaluate both false positives and negatives. This will allow us to spot the difference between a high-risk investment and an investment with potential. Both are important.
"Financing a lousy company which is too high-risk of bankruptcy giving occasion to a financial loss. This is why many look to optimise a model's ability to assess the 'bad' companies accurately," says Ditte Rude Moncur.
"Choosing not to finance a 'good' company leads to another type of loss- a societal loss, especially, the potential for growth, increased production and job creation. This is why we want to design models that evaluate 'good' companies correctly. In the long run, we hope to optimise both parameters."
What does data say about the team?
So far, the general model has been rolled out in the Growth Fund's leading business, and the next step is to introduce industry-specific models for industry-specific models for, e.g. construction, agriculture, entrepreneurship and tech companies. It gets fascinating when the models can also indicate a team's probability of success.
"We're just getting started. We are driven by the belief that there is a lot of explanatory power in data. This, however, requires that you are working with quality data. As we gain access to more data on companies and their teams, we will be able to optimise the models that can ensure smarter and faster access to capital for promising companies" Ditte Rude Moncur explains.
Time-consuming transformation
Moncur explains that the support of the Growth Fund's board of directors has been vital.
"It requires strong winds and covers as it takes a long time to build the right team. And much time must be spent communicating about the transformation internally," she says.
The Danish Growth Fund has good experience with ambassadors who were not a direct part of the team in all departments. The ambassadors are the ones who should benefit from the new models; and therefore, should contribute to finding solutions along the way.
Also, the Growth Fund has sparred with other companies and organisations that are in the process of introducing and implementing machine learning in their company's.
"We have had great success in sharing our knowledge and vice versa, as it allows us to inspire one another. At the Growth Fund, we enjoy partnering with other organisations with different stakeholders, so together we can lift the Danish ecosystem. We want to contribute to increased transparency by using data, so that in the future, it will be easier for companies to get access to the capital they need, and for investors to find relevant companies to invest ," Ditte Rude Moncur explains.