Article
How Digital Hub Denmark used Reddit to attract tech talent
To address the shortage of technical skills in the Danish tech- and startup ecosystem, Digital Hub Denmark tested Reddit as a new potential channel to attract tech talent to Denmark. In this article, we've compiled our key learnings.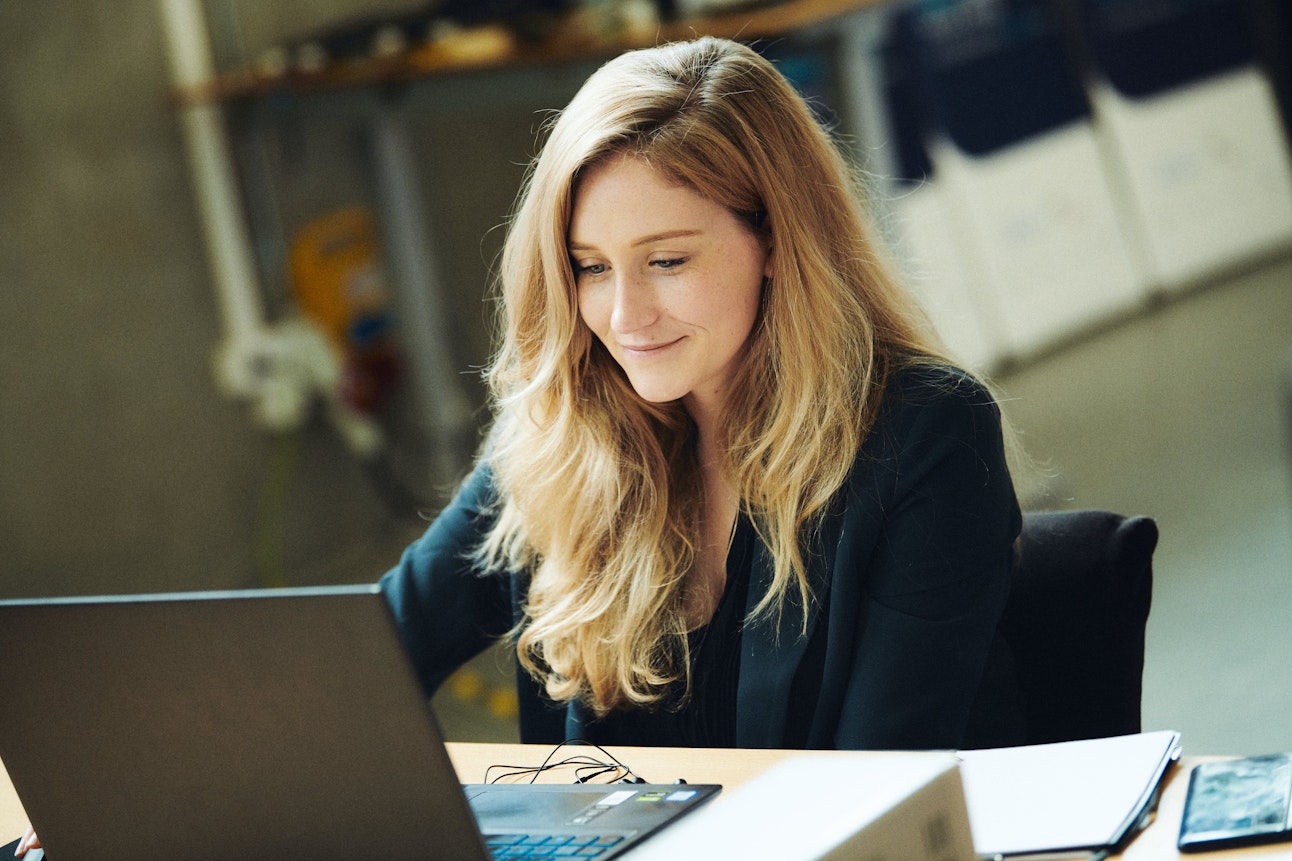 It's no secret that the global talent shortage and the high demand for technical skills among Danish tech startups are preventing them from scaling.
In our talent attraction campaign Talented in Denmark we decided to experiment with other marketing channels on top of traditional ones like LinkedIn, Facebook, Instagram and Google.
Our goal for the campaign was to inspire tech talents to live and work in Denmark by promoting around 100 expat stories of techies who have already taken the leap of moving to Denmark and joining the Danish tech scene. And what better way to reach the tech talent audience than to meet them on their turf? That was our main reason for using Reddit.
If you need more reasons why Reddit has huge talent attraction- and recruiting potential, you may want to read our other blog post explaining just that.
Finding our tech audience
We started by searching for relevant subreddits to target Redditors who were either interested in tech or were already working in specific tech fields. We also looked for Redditors who had already moved to another country.
We ended up with the following list of communities to promote our campaign in:
Reddit hack: If you have any techies in your network, ask them to map out relevant Reddit communities. Your target group knows best.
Fine-tuning our campaign to Reddit
Despite having a wide selection of assets for this campaign that were ready to be distributed on social platforms, these were not "Reddit-appropriate". If you're already an active Reddit user, you know that communicating on Reddit is slightly different.
Therefore, we had to tweak the original content while conveying our key messages. This was particularly important as a lot of our content was created as paid ads - and most subreddits don't allow such blatant ad posts. If the content is too "branded", users will most likely not interact with the ad or even worse, they will downvote it which will send your ad down to the very bottom of the page.
One way we fine-tuned the content for Reddit was by spicing up the copy and creating memes. This performed surprisingly well and received a lot of engagement.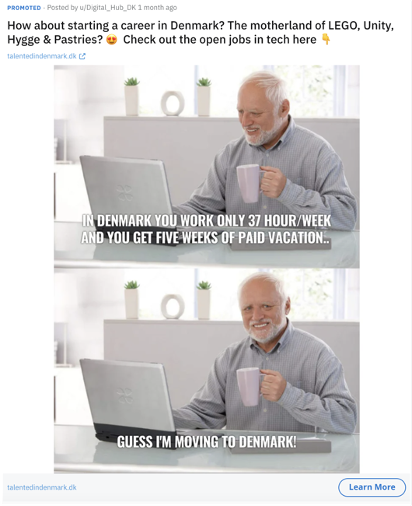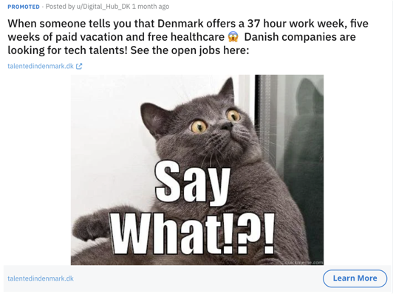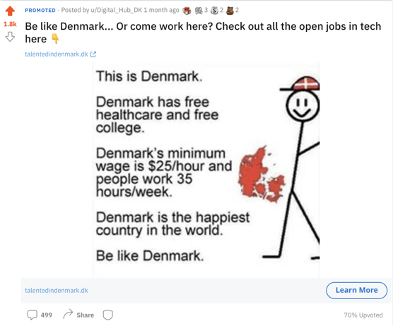 Using Reddit for our paid advertisement efforts was one thing, but it was also crucial for us to engage with Redditors on organic content. By creating engaging content, we invited Redditors to join the conversation (see example below) so we could gain valuable insights directly from our target group and build more trust as a fellow Redditor. This was a must as Redditors do not approve an "empty" Reddit account that hasn't engaged with other posts before.
Creating organic content in addition to your paid ads or job postings also allows you to gain more Karma points, which is an indicator of whether you're an active user or not. Every time you post something on Reddit that is upvoted you get a point.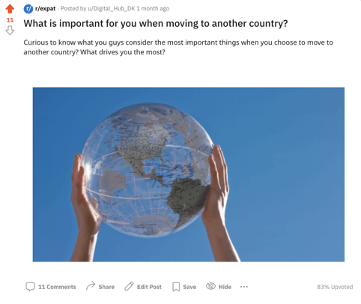 A talent attraction channel with huge potential
We first approached Reddit as an experimental channel. However, we were quickly blown away by the new possibilities to attract top talent. Not only did we find quality tech talent, but we were also able to test different formats and creatives.
By creating relevant content and communicating the "Reddit way" with the right audience, we managed to reach almost 4 million tech users and direct 21,407 clicks to our tech talent funnel from Reddit. Targeting the tech audience on Reddit turned out to be quite fruitful. Our efforts performed so well, that Reddit reached out to us about creating a success case. (Yes, we can brag despite the Law of Jante).
You are also more than welcome to reach out to us and we will happily share our tactics with you.