Article
Women in tech: How to get more diversity in the industry
Start in elementary school. Focus on solutions to real-world problems instead of the technology itself. Highlight new types of role models. These are only a few of the broad range of suggestions given by Towards no. 1's panel of leading Danish female tech entrepreneurs when presented with the challenge of how to get more women into the industry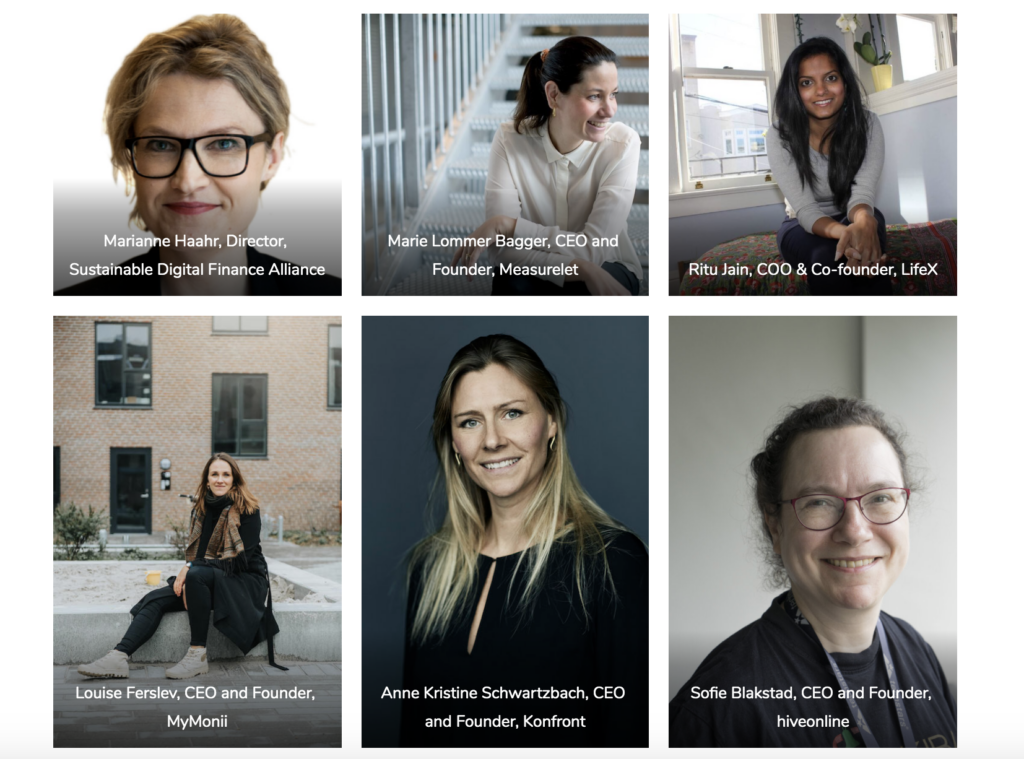 There seems to be a clear consensus on one suggestion. This isn't just about gender. Instead, it's a question of eliminating the industry stereotype: A geeky and dull person who is disengaged from the world and instead emphasising the variety of skills and types within tech. The Danish tech sector is populated by much more than just coders, and according to our panel, we need to show that.
Marie Lommer Bagger, CEO and Founder, Measurelet
Pippi work on this agenda and I think it's really cool, we need more of that. But right now, I expect role models are important. I hope my story can be a motivation for other women, and perhaps especially women in the health sciences, to venture into entrepreneurship and develop commercially viable products or services."
"However, as nurses, we are not at all focused on business, profit and product development, although in my opinion, we have the perfect profile to be entrepreneurs. As a nurse you are trained to fix problems, talk to people, work in teams, have a high work ethic, work independently, manage priorities, etc., all things that can be used as an entrepreneur."
Sofie Blakstad, CEO and Founder, Hiveonline
"Funding is important. Technology intensive companies need capital to set up and grow. We've been lucky in attracting funding, although not from Denmark. Statistically less than 1% of VC capital in Denmark goes to female founded companies. Without that initial funding, it doesn't matter how brilliant and technically adept a founder is. Investors, especially in early stage companies, need to realise their own biases and how they are limiting their opportunities."
"As an immigrant and someone who's had a long international career in financial services and technology, I've been surprised by how a really equal society like Denmark can still harbour old-fashioned gender biases in banking, financial services and technology, especially when we see how neighbouring countries like Sweden and Finland are much more progressive and inclusive in the same industries."
Marianne Haahr, Director, Sustainable Digital Finance Alliance
"In Denmark, we need to establish coding as a third language in schools everywhere. My girls are attending coding classes after school and enjoy it because it's fun, social, and you can be creative with the games you design. I think giving our schools the competencies to expose girls to game development early on is an excellent way to lay the foundation for a more diverse tech sector in the future."
Louise Ferslev, CEO and Founder, MyMonii
The media (and bigger players like Netflix, etc.) must take responsibility for not repeating stereotypes. An example is actually the tech company in the Silicon Valley series. It's one of my favourite series because it's so close to my everyday life, but it's a bunch of white middle-aged men who run the tech companies in the series. It's a problem that, not only in this series but in general, you have this image of what a successful and courageous entrepreneur looks like. Unfortunately, it reinforces the unconscious bias.
Anne Kristine Schwartzbach, CEO and Founder, Konfront
"We need to show the younger generation that this is also a way to go, from childhood. And we shall overcome the stereotypes. The innate tales we have about gender greatly help influence our children's perceptions of what they can and can't do. We need to show that technology isn't entirely about the binary number system, and demonstrate that technology can also be about helping people and contributing positively to climate challenges."
"Everyone has a responsibility to create new stories about girls, women and technology. Parents, professionals and politicians."
Ritu Jain, COO & Co-founder, LifeX
You have to start from the bottom, developing women in organisations to rise up and take a chair at the decision table. At LifeX, we have >50 per cent women, which I am proud of, and we make sure to help them develop and grow into the leaders for tomorrow. The second thing is to provide role models to break stereotypes. It's important that young women in different industries get to realise the different paths they can take. We try to do that a lot by promoting from within and bringing in external role models.