Article
Why team up with Apple and Google?
Co-working with the tech-giants can be a way to spur growth and reach new markets. GN Hearing CTO Brian Dam Pedersen shares the company's experiences working with Apple and Google.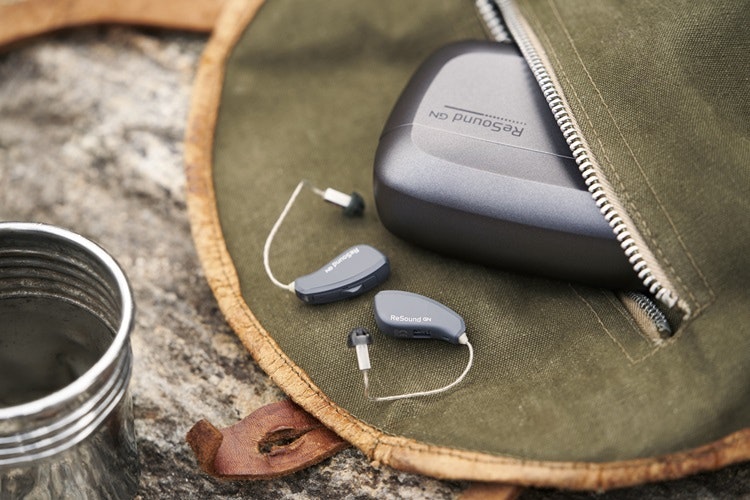 GN Hearing, located in Ballerup just North-West of Copenhagen, has just launched a technology developed in collaboration with Google. This new technology allows hearing-impaired people to stream audio from their Android phone directly into their hearing aid. The publicly traded Danish company is now giving other companies and platforms this same opportunity.
The collaboration with Google occurs six years after GN Hearing teamed up with Apple to become the first provider of a solution that allowed iPhone users to stream audio from the phone directly to the hearing aid.
"With the right partnerships, we had the opportunity to catch up on innovation streams that we otherwise could not keep up with," says Brian Dam Pedersen, CTO at GN Hearing.
Collaboration led to growth
According to GN Hearing, cooperation with tech giants is the most important reason why the Danish business has grown faster than the market over the past several years.
"The hearing aid industry has been through a major transition over the last ten years. Before that time, manufacturers had control of all development and all new technology was developed by the manufacturers themselves. But then came the whole connectivity wave, what today is called the Internet of Things. It quickly became clear to us that we couldn't create all the components ourselves," says the CTO of GN Hearing, Brian Dam Pedersen.
Instead, the company adopted a strategy to focus on the areas where it was possible to create clear value and improve efficiency. Other areas would be developed via or together with external partners.
"With the right partnerships, we had the opportunity to catch up on innovation streams that we otherwise could not keep up with," says Brian Dam Pedersen.
Innovation through custom technology
The pace of development within the Internet of Things is so fast, that if the company was to work on a development program itself, the product would be obsolete before launch.
"So it is better to look for other companies and utilise technology that is not initially intended for our industry, and then adapt it to fit our applications," says Brian Dam.
"Our philosophy is that we don't have to invent everything ourselves."
The road to Apple
While it makes sense to partner with a best-in-class company in a field of fast-paced innovation, such a partnership must add mutual value if a collaboration is to become a reality.
Responding to a question on how to succeed at partnering with companies such as Apple and Google, Brian Dam says:
"We found in each other a common interest in developing better solutions for our users."
"It started with the fact that Apple wanted to create a solution that made Apple's products more accessible to the hearing impaired. There was a good match with the wireless technology we had just launched," explains Brian Dam Pedersen.
The risk of sharing with the big players But don't you risk getting eaten when you, as a small company, play with the big fish?
"It is a calculated risk that one must take. Of course, after a period of collaboration, the big players can choose to say: 'we have learned what we need, so now we'll move on'. But if Apple and Google want to make hearing aids, they'll do it whether we've talked to them or not. But by being close to them and in the development process, we get an advantage because we understand how technology is built and we get the opportunity to develop in parallel with them. If you can't beat them, join them," says Brian Dam.
At the same time, the partnership provided the opportunity to develop something unique that GN Hearing would never have had the chance to do alone.
"The two projects with Apple and Google make it possible to listen to the phone directly from the hearing aid. We do not make hardware for mobile phones, so we had never been able to do that ourselves. If you want to create something innovative in other core areas, then you have to collaborate," he says detailing the experience gained from the partnerships.
"Our legacy is good wireless technology. It's a risk balancing what can happen by talking to Apple about how to make hearing aids. Here we weighed the advantage of being deeply integrated into the IOS platform with the disadvantages," he says.
Collaboration with Google
With the experience of the Apple collaboration under their belt, GN Hearing has now partnered with Google. Since Google itself doesn't even control the hardware that is in the Android phones, the collaboration has been more challenging. However, these challenges have been solved, and the solution is ready to be rolled out.
"When Samsung or other mobile phone companies use the Android operating system, they need to be altered so that the hearing aid functionality works. If the system is to work, we need to be a part of that process with Google." Brian Dam says.
The lead for competitors
Brian Dam Pedersen says that hearing aids users have begun to specifically request GN's hearing aids because they work with iPhones.
"It provided a significant pull in the market, which we have not seen before. At the same time, it gave us the first-mover advantage, and it took two years before the nearest competitor appeared and another four years before the next one came," he says.
What have you learned from the two collaborations?
"We are more open to collaborations. We are a small fish in the sea. After all, Apple and Google could buy the entire hearing aid industry if they wanted to. We have gained some positive experience from these types of collaboration. The partners are driven by the same desire as us, to provide a good experience for their users. If you can find a common goal, then you have come far," says Brian Dam.
Ride the disruption wave
He advises others facing the same type of collaboration with tech giants to keep in mind the interest the big companies have in partnering with you. At the same time, he warns against refraining from cooperating for fear of being run over.
"If one's market is going to be disrupted by one of the big players, then it will happen whether you want it to or not. So you might as well try to ride the wave," he advises.
Another good piece of advice is to spend the time finding a common goal and to align your expectations:
"All industries have an assumption of how to make new products. When you collaborate with someone outside your industry, you have to set out a common ground for working together."
About GN Hearing
The company is part of GN Group, a Danish listed company with more than 4.000 employees worldwide.