Tech Talent
Tihamér Biliboc, Romania
Tihamér moved from Transylvania to build a good life for his family. In Denmark, he found a country where he can feel safe and where he doesn't have to compromise his work or family life. On top of that, he especially enjoys being a part of the evolving robotics environment where companies are collaborating and sharing knowledge.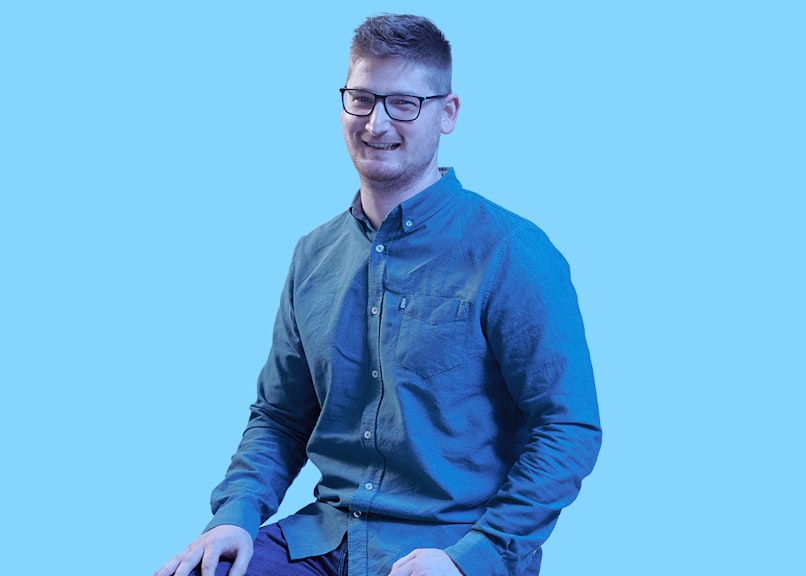 "I come from a poor country, and when my wife and I got a job opportunity in Denmark we decided to give it a try. When our daughter was born, I knew that I wanted her to have a good life and for us, the good life was here. In Denmark, I feel like the opportunities are only limited to our imagination."
"There are so many benefits to living in Denmark compared to where I am from, but the most important benefit is safety. I don't have to worry about my finances, and I don't need to save money for healthcare or my kids' education. I can focus on building a good life, enjoying what I do, and spend quality time with my family. Speaking of safety, some people might laugh at this, but I was really surprised by how friendly the police is. I feel safe with them around."
Explore: What career opportunities are you looking for?
The strong robotics community pulled me right in
"I always had a passion for computers. I have studied computer and electronic related things for most of my life. Back in Transylvania, I was really into both the hardware and the software side of computers. It took a turn when I started to deal with technology in Denmark, especially when I moved to Odense. Odense is the capital of robotics, and it was hard not to get involved. When I met the people behind Aim Robotics, they opened up a new world to me. I am thankful they supported and still support my journey to explore this world. Robotics became my passion, and I feel I became part of the robotics community."
"I studied computer science in Transylvania. To freshen up my knowledge, I studied IT Technology in Denmark and during this education I did my internship with Aim Robotics. After I graduated I was hired and could stay. I work as a Software Developer. Aim Robotics deliver patented dispensing solutions for collaborative robots. We are part of the UR+ ecosystem with our UR+ certified products. Everything software related is my responsibility. My two main tasks are to develop the firmware software for our end-effectors and to develop our own URCap, a user-friendly plugin software for Universal Robots robot arm which can best be described as an app for a phone but this one is for collaborative robots.
The intense tech scene pushes you to do better every day
"I feel and have experienced that when you are in a foreign country your work output must be higher than, in this case, the Danes because if you bring the same to the table, in most cases, the nationality of that country will be chosen over you. This is not necessarily a bad thing. In my case, it pushes me to be better every day. Not better than others, but better than myself a day ago."
"The work culture in Aim Robotics is quite democratic. I never feel like I am less than others in the company. We value each other. The leadership of the company trusted me from day one, which gave me more confidence to grow without any pressure or stress. Everyone's opinion is considered and I believe this mentality can lead to fast growth too. We learn from each other each day."
"The Danish tech scene is quite intense. There are so many talented people with so many ideas. Danes are very creative and open-minded workers, and it is a great experience to see how differently we can approach the same problem. What surprised me the most, but what also makes me happy, is that many companies share their knowledge and help each other out. Together they create brilliant things instead of keeping to themselves to protect their profit and let others reinvent the wheel."