Article
Series A Academy learnings: How to negotiate your terms
Did you miss out on the last Series A Academy about Termsheet & Negotiations? Don't worry. In this piece, we highlight the most important takeaways from the event so you will be up to date with the do's and don'ts when negotiating your terms.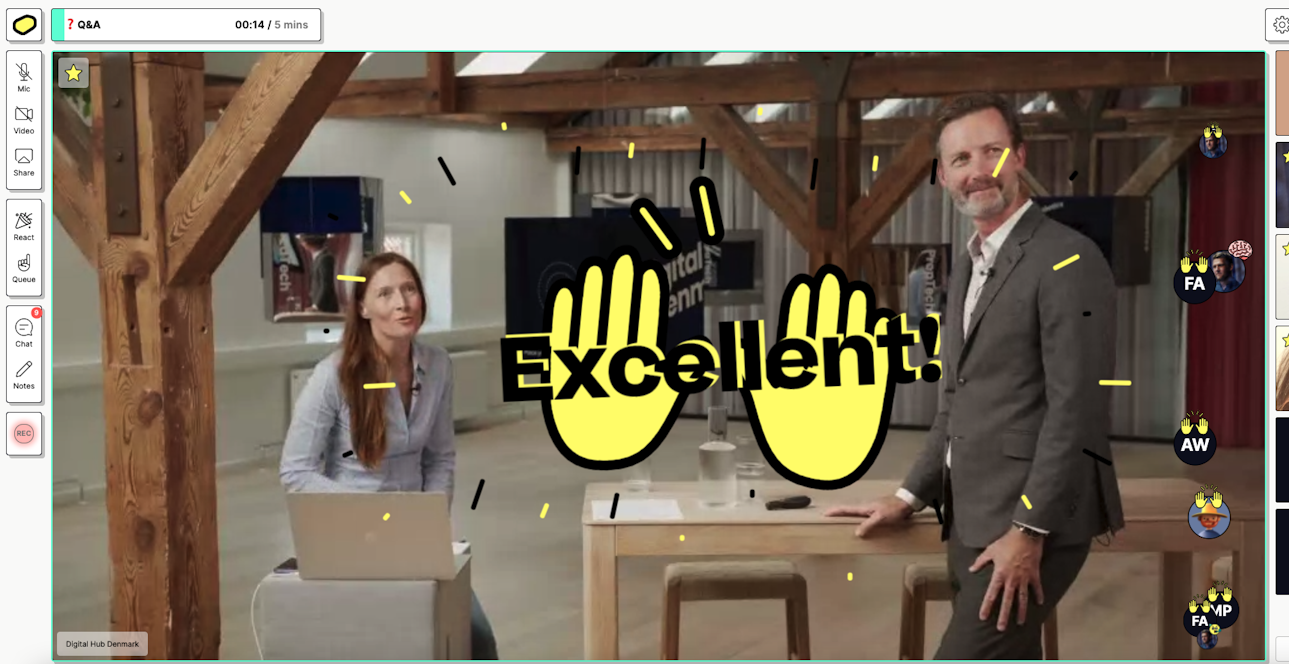 With experienced speakers like Hans Henrik Hoffmeyer from Coinify, Søren Munk Hansen from Highbridge Law Firm, Kenni Svanholm Jensen from DLA Piper Denmark, and Zenia W. Francker, Director of Investments in Digital Hub Denmark, more than 250 entrepreneurs signed up to get insider knowledge and advice on series A funding.
This time, the academy dived into the important subject of termsheets and negotiations. Fun fact: The four speakers have almost five hundred term sheets (combined), so safe to say they are experts in this field.
Following are 6 key takeaways for any startup in Series A mode (or earlier for that matter) from last week's extravaganza.
1. Be aware of nasty terms
Yup, we said it. Nasty terms are a key thing when fundraising. And one nasty term to watch out for is anti dilution. Anti dilution basically means that you agree that the investor's ownership percentage in your company will not decrease. So, why is it so nasty? It stops founders from raising additional capital.
Fortunately, there's a general consensus that anti dilution clauses are outdated, so it's usually off the table pretty fast (even though it's rather often introduced by investors). Most founders realise that today and they won't accept it either. So, if you catch yourself thinking "well… it's only for four years", remember that it is a no-go.
Another nasty term to bear in mind is liquidation preference - and how these can be tweaked. According to Hansen, there's a market right now where you can argue that it's pretty fair that an investor gets 1x liquidation preference before anybody else can get their investment back. That itself might be okay, but if investors start introducing hurdle raises and go beyond 1x to maybe 2x, be careful with that, as that is no longer the market standard. These rights are going to be triggered once your exit valuation is less than your latest post money valuation - this should be your guiding principle.
Board positions may not be a nasty term but should also be an item that you should carefully consider. Sometimes it makes sense to offer someone a board seat - but think about how many seats you can offer and for how long. Board positions can have a direct impact on your control of your company. Of course, founders should differentiate between having a right and using a right. On one hand you may experience board participation, but another thing is veto rights where founders can easily become a minority and dynamics may turn.
2. The boring, practical (yet important) stuff
With term sheets and negotiations comes many practicalities. Often overlooked but still a very important part.
One specific element that many seem to overlook is who's putting the pen to the paper. Important shareholders might not be reachable at certain times for many reasons like trekking in the deep jungle for a whole month or going to outer space - Bezos might be starting a trend.
Does this mean that you need to be aware of your investors and their whereabouts? Well ... 'yes', if you ask Hoffmeyer. As soon as the negotiation phase starts, all stakeholders should be notified and available to sign.
3. There's nothing like a good old data room
When going into negotiations with investors and for due diligence processes, you will benefit from having a well structured data room. Coinify built a data room very early on and with great success. But most importantly: they made it comprehensive and transparent.
But, what should be in a data room shared with investors? Coinify stored everything in the data room. Once they had a finalized document, they put it in the data room. Once they had a final customer agreement, they put it in the data. Employment contract, police investigation and you name it - all in the data room. See Coinify's data room below: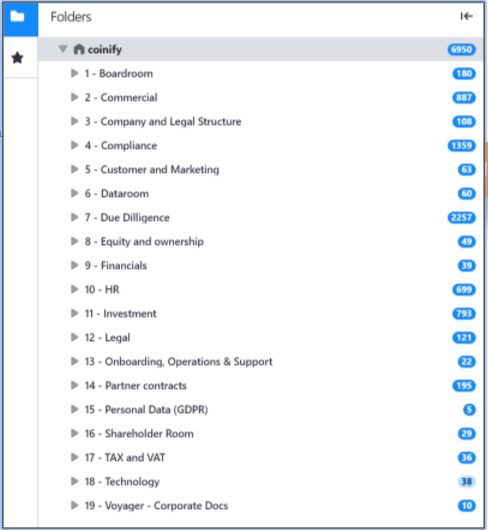 In the due diligence process it's much easier to have all of your important copies gathered and it allows founders to track how investors engage with the documents. In fact, Secure Docs lets founders track exactly what investors are reading and how much time they spent. Smart, right?
4. Employee warrants or not?
If you're considering offering warrants to your employees, it's important that you structure them carefully. Worst case scenario, you can end up diluting your ownership and you can have employees who are not motivated to build up the company. The panel agrees that warrants are not just something that you throw around.
Here's an example: Let's say if a normal duration of a company from start to finish is seven years. In that process, you go through different stages and you will probably also meet some mixed level management, next level employees and so on. You can easily offer warrants, which is great for those who are in the initial journey, but at a later stage you may not be able to offer the same for newcomers. As the value generation can be much greater on a later stage in a company's journey than it was initially, you can end up sitting with someone who earns a lot on the entire journey, but maybe have left after three years, yet the company does not exit until after seven years. That might not be so motivating IRL.
Therefore, think about how you will structure your warrants - both now and in the future. An alternative might be to offer employees a raise or bonus.
5. Turn the table around
When entering the negotiation phase, founders should play a little game; who's buying from who.
Founders own the shares and investors are eager to put capital to work in a company, so they are really "just" trying to sell a big bag of money in exchange for a piece of a company.
Turning the table that way - that investors are actually selling - founders can get better leverage in the term sheet conversation.
6. Raising capital takes time (more than you think)
Start your fundraising early. Period. Retrospectively, Hoffmeyer thinks that him and his team should have started way earlier in most fundraising cases, Hoffmeyer shared.
At the initial stage Coinify spent three months followed by the series A round which took five months from beginning to end. Lastly, the actual trade sale was a nine month long period. So, the earlier stages are easier but it will gradually become much more time consuming. Even three months is a long time because you're building a company at the same time.
Do remember that it takes time to catch the attention from potential investors that also like to follow your company for a period of time. Especially before you ask for a big check. Think of it as a school essay: Time is against you and as Hoffmeyer says; "You will always like more time when you reach the end".
That was it. Now you're ready to negotiate, finalize, and close the funding deal (can you hear the champagne bottles popping already?)
Of course, there are many other important things to consider when raising a series A funding round. That is why our Series A Academy takes a deep dive into a new subject every time.
If you have input to series A themes that we should unfold, comment with your ideas here, and we will make sure to have this in mind when preparing for the next round.
PS: If you did miss out on the actual event, we have gathered the Q&A's for you right here. You're welcome.