Article
Q&A with Karena Walshe from Web Summit
This year, Europe's largest tech conference hosted 42,751 attendees from 128 different countries, and in addition, 1,519 startups, 872 investors, 1,878 media representatives, and 211 partners were in attendance. To wrap up another great Web Summit, we had a small chat with the the Director of Partnerships, Karena Walshe.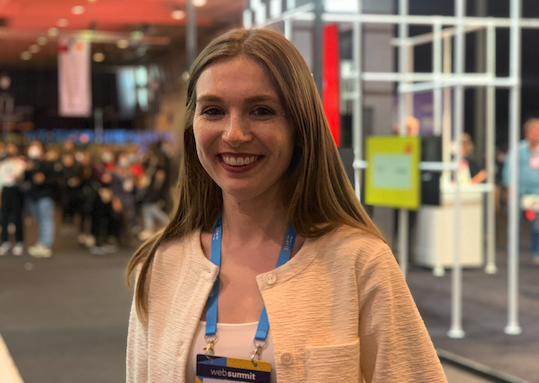 Q: What is your role at Web Summit?
A: As the Director of Partnerships at Web Summit, I oversee our partners' participation and the different programmes that they are involved in. In 2021, we had over 200 partners of the event, and a big component of the partners was our countries and regions. So obviously, we were very excited to have a cohort of strong Danish startups from Digital Hub Denmark with us this year.
Q: How was it to do Web Summit this year?
A: It's been quite a year, so we were just absolutely delighted that we could host the event. We had over 42,000 people attending here, and the fact that it was able to go ahead is incredible. Also, Portugal is the most vaccinated country in the world, so Lisbon was the best place to host an event like this.
Another wonderful thing about the event this year is that 50.5 percent of our attendees were females. So, for the first time ever, we had more female attendees than male.
Q: What kind of startups participated?
A: We had an extensive startup programme, but two types that were particularly interesting was the impact startups and the unicorns. More than 200 impact startups that have the UN SDGs at the core of their mission participated this year. Obviously, climate change is a very pertinent topic, so we had a whole curated impact track, which was very exciting.
We are also very proud to have had over 70 unicorns participating, and a lot of these became unicorns during the pandemic, making Web Summit one of their first times making a public appearance as unicorns.
Q: What were some of the main themes?
A: The main theme was post-COVID. The pandemic has affected every industry, and there weren't a track at Web Summit where we were not addressing that. We even had a brand new track called Remote, which looked at the future of work and the effect that the pandemic has had on our working lives.
Another big theme is crypto unfolding the new uprising era of crypto, and what the future looks like for that track.
Lastly, we opened Web Summit with a speech from Frances Haugan - the Facebook whistleblower, which was really interesting. On the other hand, we had a discussion with Nick Clegg and Chris Cox from Facebook Metaverse, so, I suppose we had to the full spectrum of these whole topics.
Q: What's next for Web Summit?
A: Next year, we're running events all across the world. We are hosting events in Hong Kong in March, in June, we're in Toronto for Collision and in September, we're in Tokyo for Web Summit Tokyo, and then we're back here next November for Web Summit 2022. So, we have a full calendar next year, and we're just really excited to continue to get back to fully in-person events.