Article
New Danish-developed digital management tool booming in the corona crisis
The Danish start-up Qvest is behind a management tool which has seen an explosion in the number of users during the corona crisis. The digital tool makes it possible to get up close to your organisation – from a distance.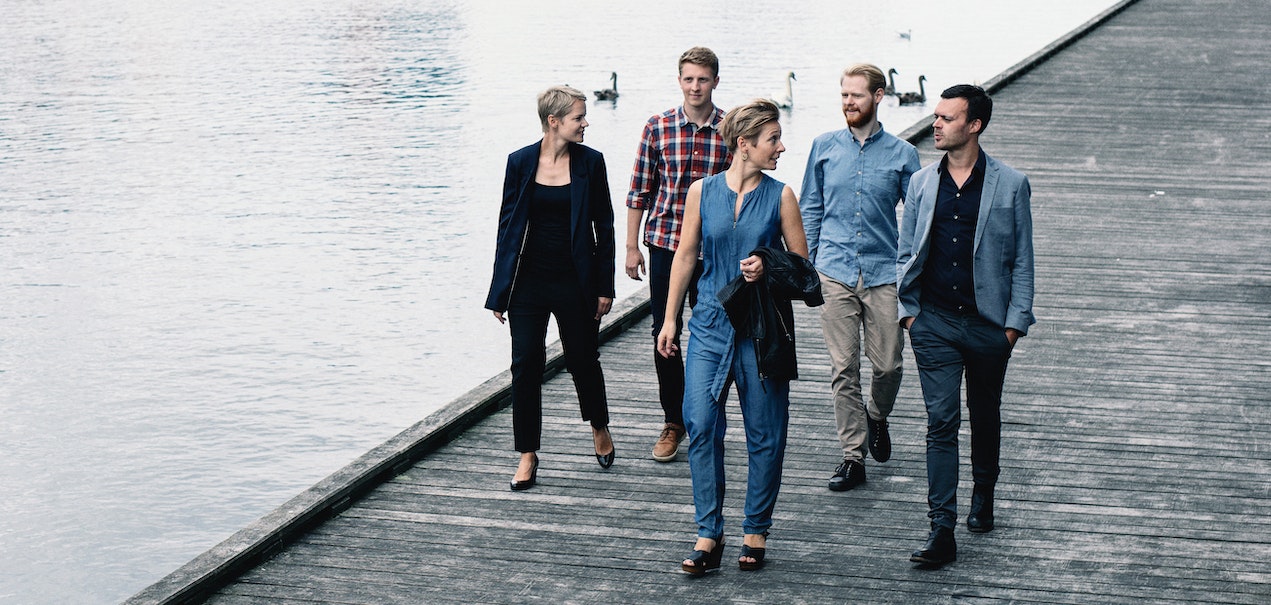 Pia Lauritzen, Chief Methodologist and Founder of Qvest, retells the situation.
"I saw the crisis as a huge opportunity to do something crazy and important, but others in the team – really sensibly – worried about how the crisis would affect our clients. These really different reactions created a lot of energy," Pia Lauritzen, who is also a member of Towards No. 1'spanel of women in tech, says.
April sales record
Some two months on, we know that the resulting energy was really fruitful in the end. Since the middle of March, Qvest has been establishing new key partnerships, gaining new customers and breaking its April sales record.
We will come back to what Qvest specifically did to create a buzz around their tool. But in order to understand why the situation turned into such a success, it is worth taking a closer look at what Qvest actually does.
As the name implies, it is about questions. Simply and popularly put, a 'qvest' – as the method is called – is a questionnaire turned upside down.
Whereas a regular questionnaire has a clearly defined framework for the questions asked, a 'qvest' opens up a dialogue where those involved – employees, customers or other relevant stakeholders – can ask each other questions, placing the conversation within an organic framework.
Based on research questions
The digital tool is based on Pia Lauritzen's own research over many years into asking questions and the value and information to be found from asking questions.
The tool has generally proved effective in ensuring a buy-in to strategies and closing the much-discussed execution gap, as well as uncovering hidden knowledge in the organisation and gauging the health of the organisation.
But exactly why has Qvest seen such a massive lift in use of the platform during the corona crisis? According to Pia Lauritzen, it is down to the platform proving itself to be extra useful at a time when many have been forced to work from home.
A virtual channel for informal chatter
"As the management, you always need to know what's going on. During this crisis, that hasn't been easy. When we meet through virtual video platforms, it works well for structured meetings, but everything that usually goes on between meetings – the casual chats – you don't get," she explains.
"When we're not together, as the manager you miss out on the informal chatter. Through a Qvest you're able to ensure that knowledge is gathered and there's a mutual understanding of where the priorities are right now," Pia Lauritzen says.
But when the lockdown happened, it was not immediately clear that the tool would turn out to be so successful. So the management team, including co-founder and CEO Marie Mathiesen, decided that exceptional measures were called for.
Giving free access to the tool
Pia Lauritzen was released from her usual daily activities to focus on looking ahead and identifying opportunities. She went all in as the 'voice' of the method on LinkedIn, even offering free access to the tool.
"We said, 'Anything pointing forwards is what Pia's time is for'. I have a large network and used my voice to say: 'Remember to use Qvest, now is when you need it extra badly.' We also invited people to try it for free," Pia Lauritzen says.
These efforts gave rise to a number of collaborations that Qvest.io has great hopes for. One is a collaboration with the media organisations Altinget and Mandag Morgen to use Qvest as the basis of a virtual summer gathering which is now being re-thought due to the current restrictions on public gatherings.
Recognition from U.S. management thinker
Another new partnership is a fresh relationship with Greg Satell, the U.S. management thinker and digital transformation expert who is a regular contributor to Harvard Business Review. He has become a fan of the tool and recently did a webcast about Qvest with more than 200 participants from across the globe.
Besides the strategy of putting Pia Lauritzen to work on new opportunities, other members of the team got in touch with existing customers to highlight the usefulness of the platform in light of the coronavirus lockdown.
One particular client is OK Fonden, which operates care homes across Denmark. Due to the special risks posed by Covid-19 to elderly residents in these care homes, the organisation has had a unique need to keep its finger on the pulse.
Reaching a milestone: 10,000 questions on the platform
Alongside the reactivation of existing customers, the company has also seen strong new sales.
"April was full of meetings and sales – in fact, April 2020 delivered the best sales figures ever in Qvest history," Pia Lauritzen notes.
Another milestone was set three weeks ago when Qvest reached a target of 10,000 questions on the platform.
"We see that as a clear indication that the data you get from letting people ask each other questions has huge value compared to simply gathering responses through a conventional questionnaire," she says.
That was another target reached far sooner than expected.