Tech Talent
Mariusz Pawluczuk, Poland
Technology and robotics have always been a huge interest of Mariusz Pawluczuk and in Europe, he saw no better place to move than the advanced tech-hub in Odense, Denmark. He landed a job with Universal Robots where he discovered an open-minded culture that values cooperation and ambition and Denmark became more than an adventure. It became his home.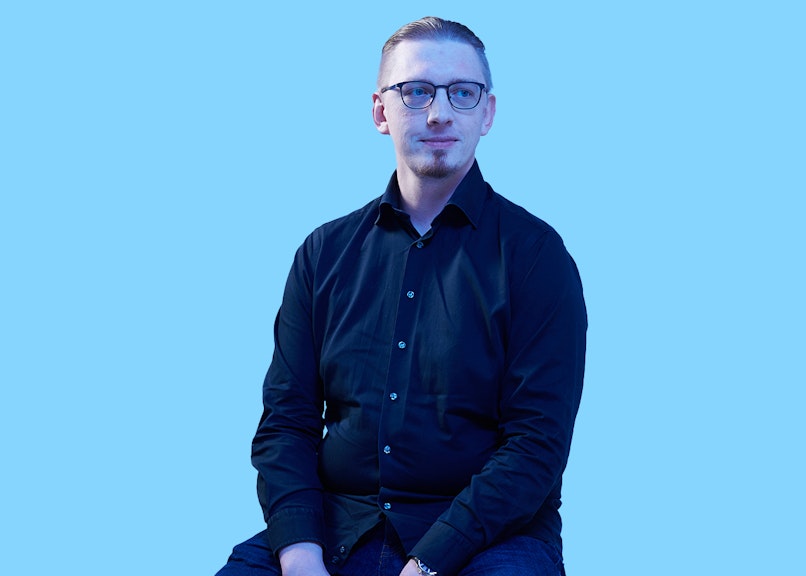 "I moved from Poland because I felt like I needed to challenge myself. I've always been very interested in technology and robotics, and there has never been a doubt in my mind that my future revolved around this business. Unfortunately, the options for studying robotics in my hometown were very limited. I knew that the robotics industry in Denmark is one of the fields the Danish tech scene excels at, and I had always wanted to travel abroad. At 21, I moved to Denmark. I've already been here for 12 years."
Opinions can be expressed freely which makes a huge impact on professional growth
"One of the things that surprised me the most when I moved to Denmark was the level of freedom of speech and the flat structure in most organizations. For me, being able to freely express my opinions and disagree with my professors and bosses made a huge impact on my professional and personal growth. In Poland, we still have a more traditional employer/employee dynamic where you don't often get the chance to disagree with your boss."
Explore: What career opportunities are you looking for?
"Working in a Danish company offers me a chance of constant personal and professional development. I never feel like I have to put a lid on my opinions or wishes for the future. I studied an MSc in Robots Systems Engineering, and I started my journey with Universal Robots as a Software Test Engineer. Because of my ambition, I was constantly seeking new challenges and responsibilities. My supervisor noticed it and gave me a chance to take the lead in the Quality and Test area where I currently work.
In general, management in Danish companies seems to understand and appreciate the value of sparring with their employees. In addition, many Danish companies operate internationally, which creates an exciting and culturally diverse work environment."
The Danish work-life balance and free medical services make up for the high taxes
"The culture in my company is focused on continuous improvement of our product and our employees. Universal Robots puts a lot of focus on the work environment - nobody should feel left out or underappreciated. I'm currently involved with identifying processes that can be automated and aim at achieving fast feedback. All of my tasks are focused on quality management and innovation. No day is similar to any other. If I am not providing guidance at the meetings, I'm probably working closely with a customer learning about their problems and improving our products in the process."
"The benefits of living in Denmark is that I get to be part of a market which is fully focused on innovating and pioneering new ideas and technologies. I love the culture and the people. People are very open-minded and willing to engage with newcomers. An obvious disadvantage could be the high taxes but I've learned to appreciate the fact that paying high taxes equals free medical services and many other benefits."
"Denmark offers every opportunity for personal and professional growth I could ever want. In addition to this, I love the Danish attitude towards child-rearing and family life in general. I met my wife after moving to Denmark, and we have recently built a house in Odense, so a lot of my free time is spent establishing our home and awaiting the birth of our first child. We enjoy travelling around the country and visiting different parts of this small but very diverse corner of Scandinavia. Denmark is very bicycle-friendly, and since moving here I have discovered a love for riding around the countryside. It helps me relax and connect with my environment in a way I have never experienced before. I don't see a reason for me to live anywhere else."