Tech Talent
Marcin Gadomski, Poland
Marcin Gadomski experienced language barriers when he moved from Poland to Denmark. In Swap Language, he uses his own experience to help others offering free language exchange and lessons.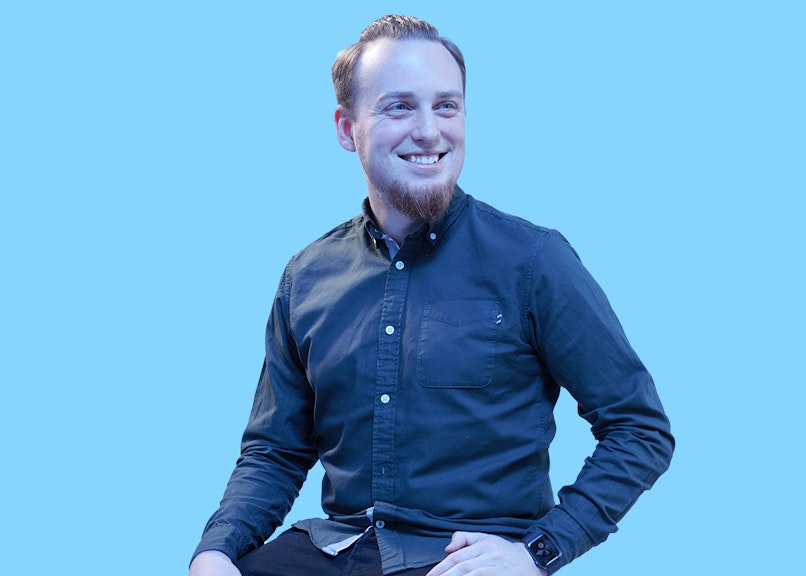 "Language barriers are a real thing for expats in every country. The more I can relate to the problem, the more interested I am in solving it. For me, personally Danish is a hard-to-learn language. How can I find a solution not just for me but for other people who are struggling with the same things? I started helping Swap Language back in the day, and during the weeks and months of our collaboration, we talked about how to improve the platform and shape the IT future of Swap Language. That's when the two co-founders Allan and Nichlas offered me the position of CTO."
Dynamic days and a flat hierarchy
"My days start by preparing delicious coffee for my teammates. Then I follow up on our progress in our current sprint, check emails, respond to customers and check the performance logs of our services. After that, it is time for our stand-up meeting where everybody has a chance to speak up. From then on my day is super dynamic. Sometimes I develop stuff around the platform, help others and stay up to date on all the new frameworks and architectures that we can apply in Swap Language. From my point of view, there are not enough hours in the day, but I enjoy it."
Explore: What career opportunities are you looking for?
"I've been lucky to work in companies with really great people. You can ask any colleague about anything and even if they don't know the answer they will help you find it. The titles are blurred. There is no difference when you talk to the CEO or a fellow software developer. It makes you feel like you are all part of the same team. You are much more than an employer with an anonymous desk where you sit until you have gone through your tasks and can go home. If you make an effort to get to know your colleagues and open up, it feels like together you can achieve anything."
Denmark has support systems for everyone
"The cultural differences between Poland and Denmark surprised me the most when I moved here seven years ago. In Poland, people are much more open from the start of knowing each other. In Denmark, it takes some time to become friends. Sometimes I struggle with homesickness, but it gets easier with time."
"In Denmark, it is also easier to find a study job because usually Danes study between 08 and 16. In Poland, the schedule might be, for example, from 10-14 and again from 16-18, leaving you with only the night to find work. One thing you don't have to worry about is getting by month by month. Denmark has many different systems and programmes in place to help with the high living costs. My primary reason to move to Denmark was that I got approved for a study programme. Then, of course, the SU was a convincing point as well. When you graduate, your SU ends, but if you have signed up for an A-kasse before graduating you will receive support every month until you find a job."
"Don't be afraid to go to a different country and reach the goals you've setup for yourself. Apply for positions that aren't fully suiting you and apply for those that might be above your qualifications. Challenge yourself every day, because by doing that you will be able to reach whatever you want when you come to Denmark."
Explore: EdTech in Denmark.