Article
In a Danish suburb, fresh food will be grown in a warehouse
The start-up company Nordic Harvest has raised some 62 million kroner in funding. Starting in December, Danes will be able to find its sustainable and locally produced high-quality vegetables in shops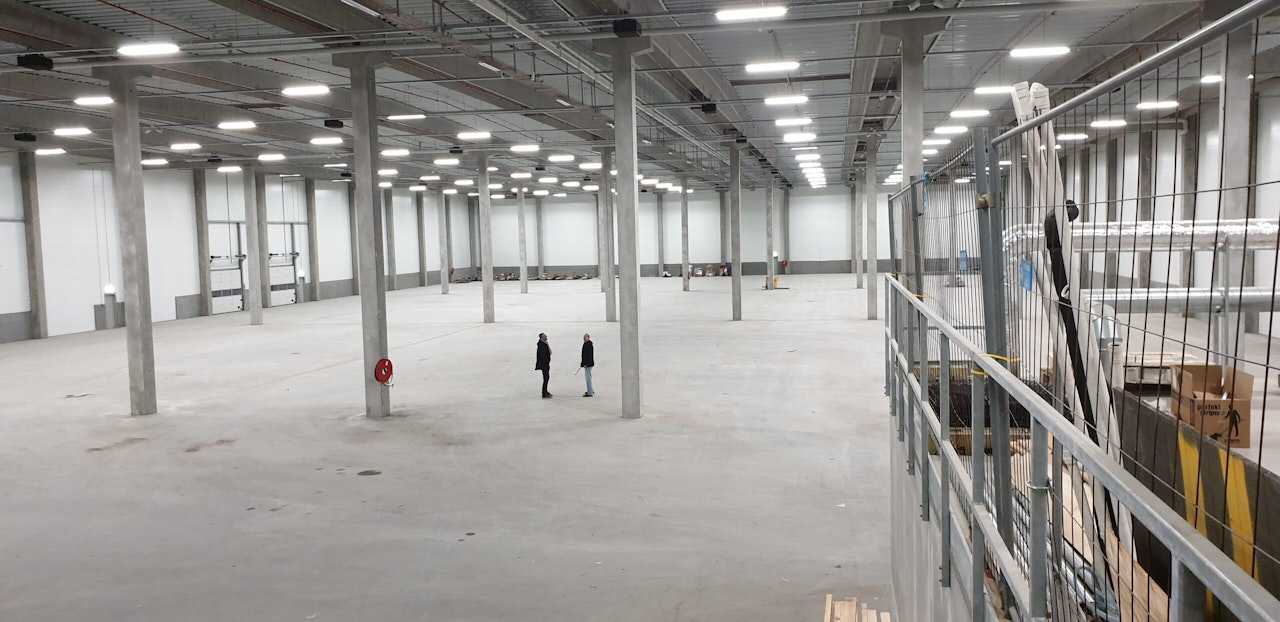 In about six months, a warehouse the size of an overgrown football pitch in the Copenhagen suburb of Høje-Taastrup will have been converted to growing vegetables.
Under a 10-metre-high ceiling, crops will be sprouting in 14 different layers and grown using advanced automation run by Nordic Harvest. The warehouse will also have space for research facilities and a showroom.
The project will make it possible for Danish consumers to buy locally made products of a completely new and distinct quality, all grown using completely sustainable manufacturing methods.
Water usage will be 90 to 95 per cent less than what is usual in agriculture. Thanks to the highly controlled growing conditions, the shelf life will also be far longer, thereby reducing food waste. And the need for resource-intensive imports of vegetables during the long Danish winter season will be less.
This is how Nordic Harvest is demonstrating the potential of the booming AgriFood Tech industry.
And according to Nordic Harvest's founder and CEO, Anders Riemann, the company has had no trouble convincing Danish retailers and restaurants that this is the future.
The next step in the green and sustainable Denmark
"Danish retailers were frontrunners in introducing organic foods some 40 years ago. Now they see this new type of foods as the next step. Many even see it as an element in their sustainability strategy," Anders Riemann says.
There are many advantages to vertical farming, and food experts believe that this growing method, which in many ways is far more factory-like, will be necessary. Demand for food is steadily increasing as the population grows, and it will be difficult for traditional farmers to meet this demand using conventional growing methods.
This method is already proving popular. There are now two significant start-ups working with vertical farming. Both are based in the U.S. and backed by major players: Plenty, in California, has received funding from backers such as Amazon founder Jeff Bezos. Aerofarms, on the East Coast, has Goldman Sachs and Swedish furniture giant IKEA among its backers.
"Denmark is a leading agricultural nation, and if we want to continue to be so, we will also need to follow the latest trends in growing methods," Anders Riemann says.
The idea came on the Copenhagen metro
The Nordic Harvest founder has had a long journey towards nearing completion on the new production facilities. It all started in April 2014, around 3 a.m., when he was on his way home on the Copenhagen metro.
"I was wondering how far LED lighting had come and whether it could be used for photosynthesis. The next morning, I got out my computer and researched LED lights for 20 hours straight, calculating the kilowatt usage and the amount of plant mass it was possible to make," he says.
Anders Riemann does not have a background in biology or farming, but he does have the ability to work on and process large sets of data, having worked as a business analyst for Maersk and Saxo Bank.
Behind this project was also a strong personal drive.
"I spent many hours every day sitting in my office chair, and often also at night, considering: will I have used my potential well enough if I can say, on reaching retirement age, that I spent my life in an office chair with large sets of numbers, offering advice?"
The answer, says Riemann, was no. At the same time, he was concerned about climate change.
"I was reading articles about Danish agriculture, and it was as if nothing was moving," he remembers.
Advice from leading experts
Anders Riemann quit his regular job in 2016. Then the seed for the project started to germinate, partly fed by words of praise from Mr Vertical Farming himself, Dr Dickson Despommier of Columbia University. He took such an interest in the project, based on Riemann's material, that he invited Riemann to New York to go through all the details. He gave the project his seal of approval and has since been attached as an advisor.
"I also contacted Michael Ingemann, who is the chairman of Claus Meyer Holding (the company run by Danish chef and entrepreneur Claus Meyer, ed.). He saw my enthusiasm, and I hired him to be my boss, the chairman of my board," Riemann says.
This particular journey of building a network of advisors was important before taking the next step in the project – getting customers and investors on board. It takes a fair amount of investment to establish manufacturing on a scale that is big enough to achieve competitive pricing.
"It's been completely critical raising a fair amount of money. That has now been achieved, and I now have investors coming to me of their own accord," he says.
Anders Riemann has also put in not just his time, but also worked on the project from 2016 to 2020 without drawing any salary, along with investing his savings and the equity on his home in the project.
The first phase of building the new facilities in Høje-Taastrup will be ready in the autumn of 2020, with the first harvest due in December. Then harvesting will be continuous across 15 batches per year – or every 25 days. The plan is then to expand production over the next two years. Once fully developed, the facility will be able to deliver 1,000 tonnes of food a year.But that is far from the end target.
"Right now, we are putting an extra amount of energy into building everything in modules to make it easier to build the same thing again in Oslo, Stockholm and Helsinki," Anders Riemann says of his growth plans for the business.
The further North we go on the planet, the better the business case gets for vertical farming. Cucumbers, for instance, are prohibitively expensive in Norway, not least due to import duties. With vertical farming, it would be possible to grow them locally at lower prices.
More than a supplier of fresh goods
Another prospective business area involves the processing of vegetables.
"The next step is to process the plant mass and draw out extracts for use in the food and ingredients industry. This way, we won't be simply a supplier of fresh goods," Anders Riemann says.
At the moment, everything is running according to schedule, and the main contractor for the construction work has more hands to do the job now since other projects have been postponed due to the corona crisis.
So, many years of hard toil seem to be finally paying off for Anders Riemann.
"There have been many ups and downs, and I have wondered, 'What the hell are you doing?' But I also told myself that I need to keep going to fight climate change and create better products for consumers."
Creating this project on Danish soil, before the big American companies take the lead, has also been a mission in itself.
"For Denmark to continue to be a leading agricultural nation, we also need to have a Danish company working in this field. We have shown that Denmark can ride the sustainability wave by developing the energy sources of the future with the Danish wind turbine industry. Now we are taking the next step by developing the agriculture of the future," he says.
How the vegetables will be grown
Nordic Harvest grows vegetables following the so-called hydroponic system where plants grow in water without using soil.
With complete control over plant growth, the taste and appearance of the plants can be improved by adjusting the amount of light, light spectrum, air temperature, root temperature, air humidity, CO2 levels in the air, water absorption, oxygen levels in the water and the number of nutrients.
The plants thus do not need to search for nutrients in the soil, since all nutrients are directly available to the plants at all times.
As the water is recycled, this method uses only 5 to 10 per cent of what is required for growing in soil. Using constant water circulation, it is possible to avoid wastewater.
Plants grown hydroponically in a closed environment are not at risk of being weakened and are therefore more resistant, minimising the risk of pests, fungi and diseases.