Article
Green impact technologies accelerating across ecosystems
Denmark is number 1 in Europe and number 4 in the world in terms of ease of doing business. In the context of green impact technologies and business solutions, there is growing momentum in Denmark.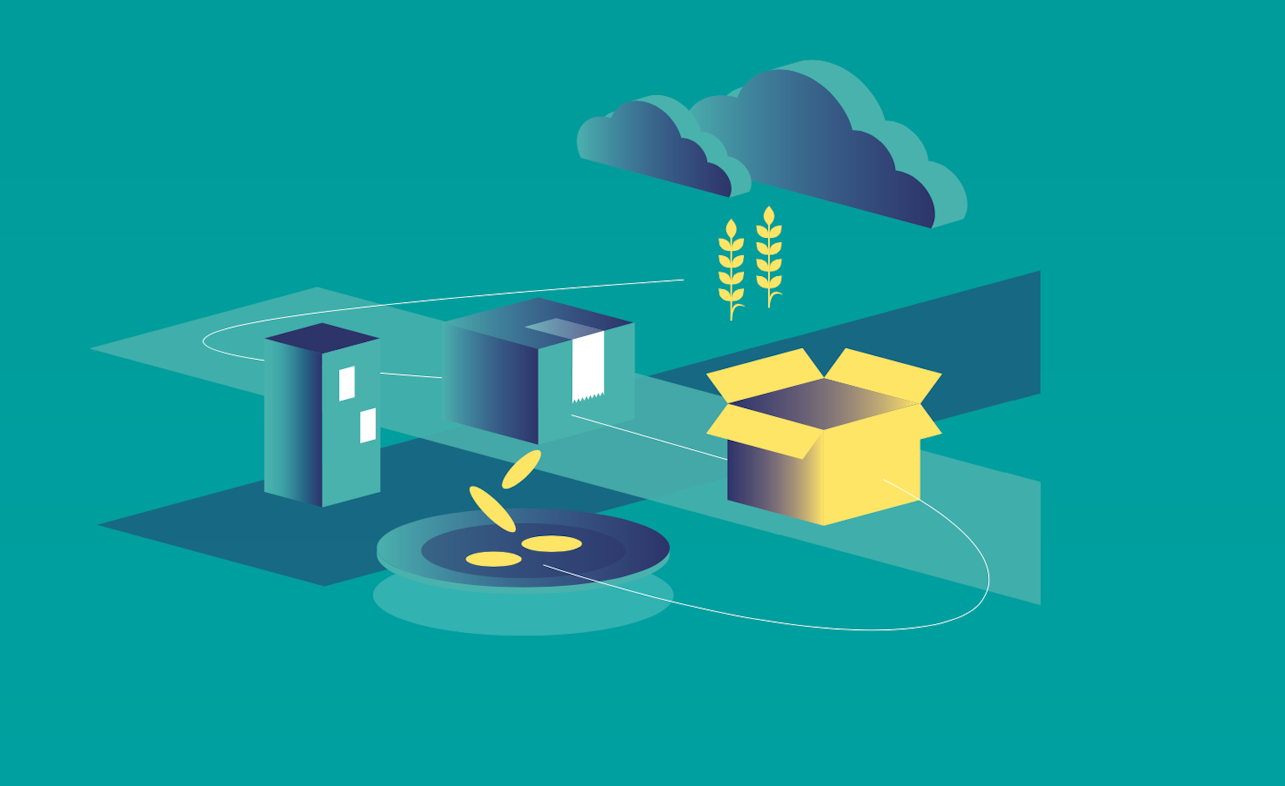 A green economy is increasingly accepted as a key driver in tackling climate change, sustainable growth, poverty, pollution, health issues, and other critical chal- lenges in order to improve life on this planet and for its people. To some, this may seem like a bold statement, but as we will see, mindsets are shifting, policies are being rethought, investments are being redirected and innovation is flourishing.
Denmark ranks number 1 in the Green Growth Index for 2020
This is not to neglect the indisputable challenges that our societies, business leaders and policymakers are faced with. Rather the point is to acknowledge that even considering a long and testing road ahead, we are experiencing a new momentum where entrepreneurs and business ecosystems are also placing themselves at the forefront of the green transformation. Perhaps, nowhere is this more evident than in the Nordic countries, which continue to pursue ambitious sustainability targets and provide policy support for [green growth across sectors](http://greengrowthindex.gggi.org/?page_id=2816](http://greengrowthindex.gggi.org/?page_id=2816).
As with most historical transformations of our economy, the role of technological innovation is central. This time around is hardly an exception. Rapidly emerging digital technologies like artificial intelligence, machine learning, virtual and augmented reality, blockchain and the internet of things, to name just some of the most prominent, have moved far beyond the initial hype cycles to create a multitude of use-cases and deliver real value for consumers, citizens, entrepreneurs and governments.
Also witness the proliferation of X-tech concepts like greentech, cleantech, envirotech, impact tech, tech for good, responsible tech, and so on. All indicate a growing recognition that technology has never been an end in itself; developing new technologies in the service of greater societal challenges means harnessing technology's full value. Inventor and futurist Buckminster Fuller famously said: "Humanity is acquiring all the right technology for all the wrong reasons". It seems a new generation is out to prove him wrong.
Welcome to the GreenTech era
We call greentech the intentional use of science and technology to benefit our environment and the planet. More specifically, it refers to technologies that have a low-to-zero negative impact on the environment when we consider their production processes, their supply chains, and the extended environmental impact of, say, a digital service or solution, like how a digital application can shift consumer behaviour in a sustainable direction by reducing food waste. Although early examples of greentech like windmills, were not necessarily digital,the current stage of innovation is predominantly based on digital systems and applications.
The list of greentech innovations is growing rapidly, and it is becoming easier, if not necessary, to begin to imagine it having a broad impact across [all sectors of The Fourth Industrial Revolution](https://www.weforum.org/agenda/2020/01/its-time-for-the-first-green-industrial-revolution/](https://www.weforum.org/agenda/2020/01/its-time-for-the-first-green-industrial-revolution/). And there is more. Across many of these greentech innovation domains, an added layer of fintech services is driving sustainable investments by expanding the access to capital for startups and scaleups, while allowing many more individuals to invest in green solutions. In these cases, fintech becomes a way of unlocking green finance in a new and powerful way.
Green acceleration across digital ecosystems
To support the digital transformation of the Danish business landscape, and the growth of startups across sectors, the private-public partnership Digital Hub Denmark was launched in 2018 with the vision of making Denmark a digital frontrunner in Europe by 2023. One of its initial tasks was to identify and map digital innovation tech-strongholds. The result became an overview of seven digital ecosystems identified by size, turnover and investments. Together these seven ecosystems form the Danish digital tech-ecosphere.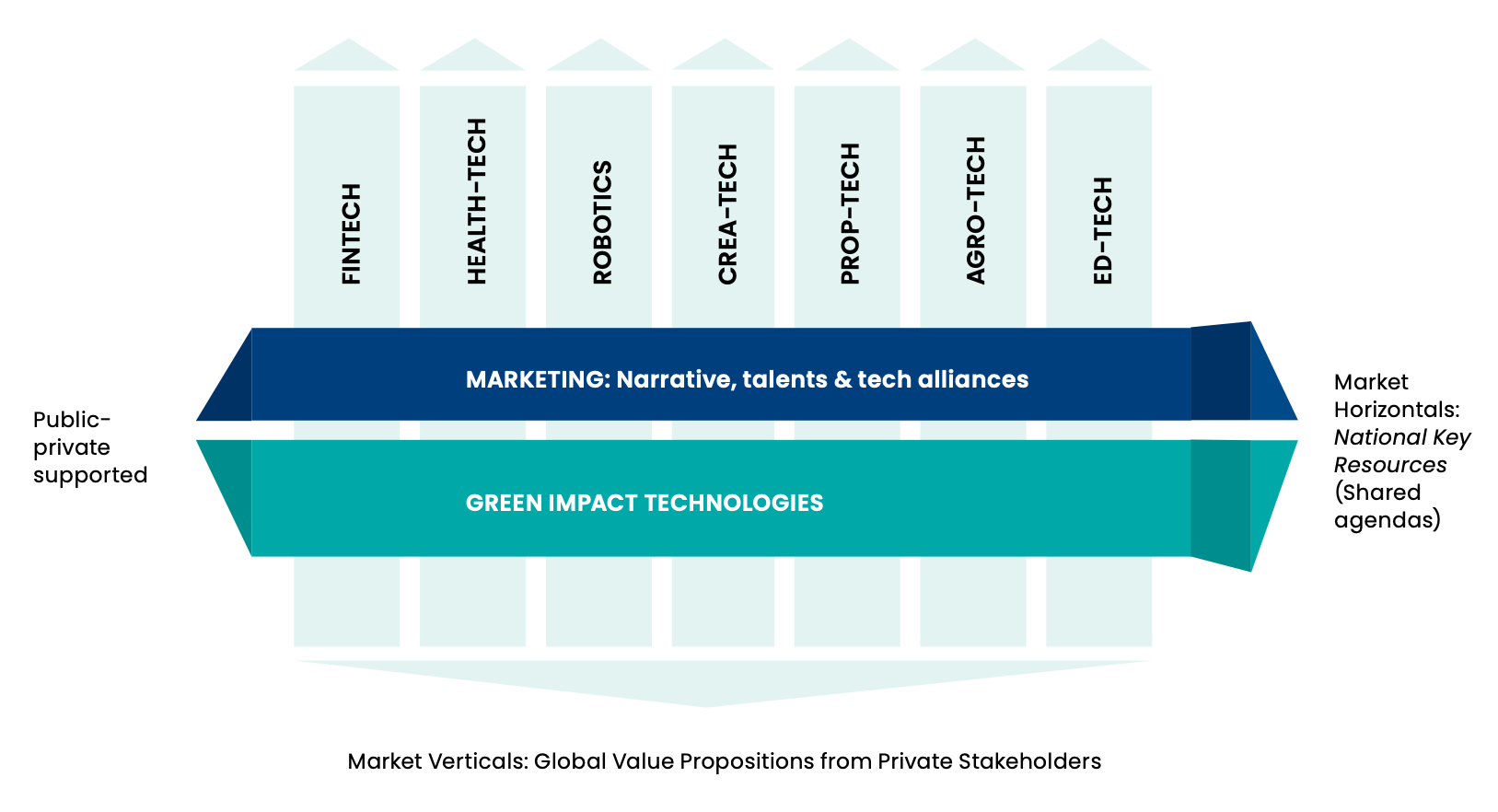 The mission to move Denmark to become an international frontrunner is to select, combine and cultivate national digital ecosystems where Denmark has a stronghold. This approach signifies a change from having various detached digital ecosystems based around main cities. For a small country like Denmark, this has been inefficient and cannot provide the necessary im- pact in a globally competitive world. Instead, establishing cross-regional digital ecosystems around specific positions of strength, like fintech or agrotech, and supporting these by appointing national domain-specific cluster organisations that can deliver focused marketing, attract talents and host visitor delegations, has proven to deliver results.
It also opens up new potential to drive innovation and growth, not only within the specific ecosystems but across them, by supporting shared agendas that connect to larger societal transitions and megatrends. It is crucial to understand and advance such market horizontals because they add value across ecosystems and can therefore expand the digital transformative value proposition of the businesses within each ecosystem. This is exactly the case with green transformation, or more specifically green impact technologies, which feature as a primary market horizontal across many ecosystems – and potentially all of them in the years to come.
According to Lise Walbom, CEO of AgroTech, a public-private partnership in the Danish food cluster, this momentum is indeed real, and is being seized by the business sector: "According to our latest Insight Report on Denmark as a food nation, businesses play the greatest and most important role in driving sustainable development. And focusing on input factors is where they expect to create the largest positive impact. Like how we can use more recyclables in production and how to reduce environmental footprint and waste in the supply-chain. Or how to better make use of scarce raw materials including water and energy. So right now, there is a growing focus directed towards all the things that we are already very good at in Denmark. Things we are already doing. And that is why we are in a strong position."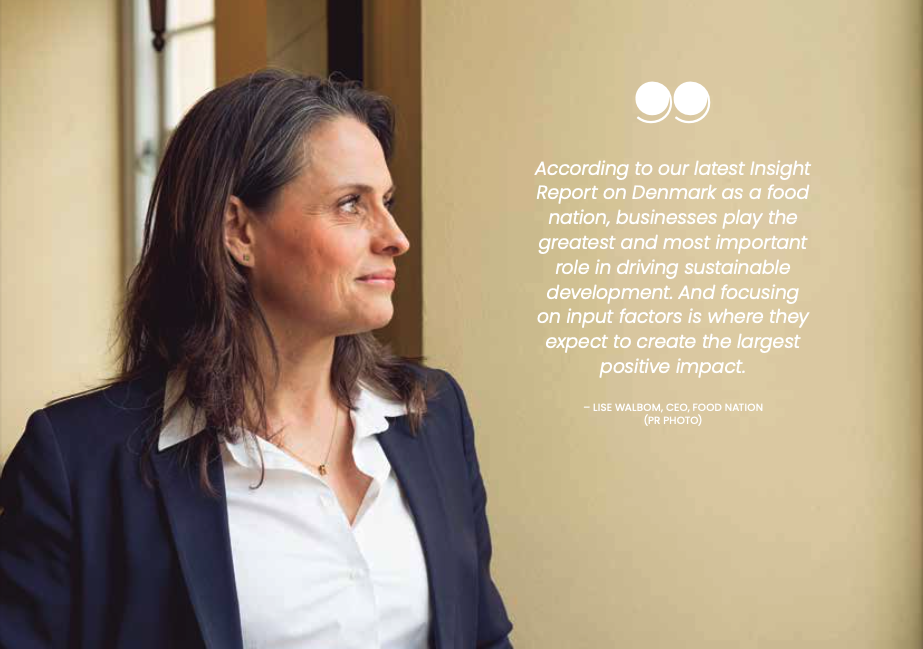 In confronting a global climate crisis, the stakes are high, especially if it is to be done while maintaining our living standards and supporting developing countries to improve their economies. There is no silver bullet and, like other remarkable movements, green digital impact solutions are an important part of the greater solution-mix that is gaining quite a lot of attention and commitment. The green transition will only be achieved as a collaborative effort, which is also to say that the greentech movement must become an open invitation to participate, contribute and get on board.
Key factors driving green impact technologies
The growing global recognition of the potential of green impact technologies is influenced by several factors. In the case of Denmark, there are specific drivers worth considering.
SENSE OF EMERGENCY TOWARDS GLOBAL CLIMATE CHALLENGES From the Paris Agreement to the UN Sustainable Development Goals and recently The European Green Deal, we can detect a growing concern, more committed national policies and the private sector pushing for change. The same goes for the UN's "build back better" framework, stressing the necessity to return to a post- pandemic world by harnessing green innovation.
ECONOMIC INCENTIVES AND POLICY INNOVATION Governments are getting on board and shifting tactics from soft rhetoric about the need for a green transition to clear incentives driven by tax legislation, binding green public procurement targets, and funding research and public-private innovation partnerships.
A TALENT CONVERGENCE BETWEEN THE TECH AND ENVIRONMENTAL IMPACT ARENAS Just a few years ago, these arenas seemed far apart but public research, higher education programmes, start- up incubators and a range of funding schemes that focus on the intersection between "tech" and "green" are now part of the picture.
THE GROWING INFLUENCE OF NEW GENERATIONS OF CONSUMERS, WORKERS AND INVESTORS Businesses are realising they may not have a viable business model, relevant products and competitive strength, if they do not shift their priorities and explore new vistas for green tech growth.
THE POSSIBILITIES OFFERED BY EMERGING TECHNOLOGIES New technologies are being harnessed to build new platforms and solutions that were simply unimaginable or too costly before their invention. Here the push of new digital technologies and the abundance of data opens our eyes to rethinking production methods, business models and consumer incentives in a more sustainable direction.
DANISH MOMENTUM Denmark is continually ranked high as a country in which it is favourable to do business. In fact, in its most recent survey the World Bank ranks Denmark number 1 in Europe and number 4 in the world for ease of doing business. In the context of green impact technologies and business solutions, there is a growing momentum, supported by a long series of critical initiatives that combine to make up a vibrant and supportive innovation community. These include start-up hubs, impact accelerator programmes, science parks, industry clusters, dedicated university research units and a range of specific public investment schemes dedicated to promoting and growing businesses that provide solutions to environmental challenges.
Key initiatives supporting business innovation for green impact