Article
From unusable bricks to unusual buildings
Danish architecture firm Lendager is developing an automated solution to upcycle brick sections that would otherwise be downcycled into landfills.
Anders Lendager, CEO and founder of Danish architecture firm specializing in circular economy.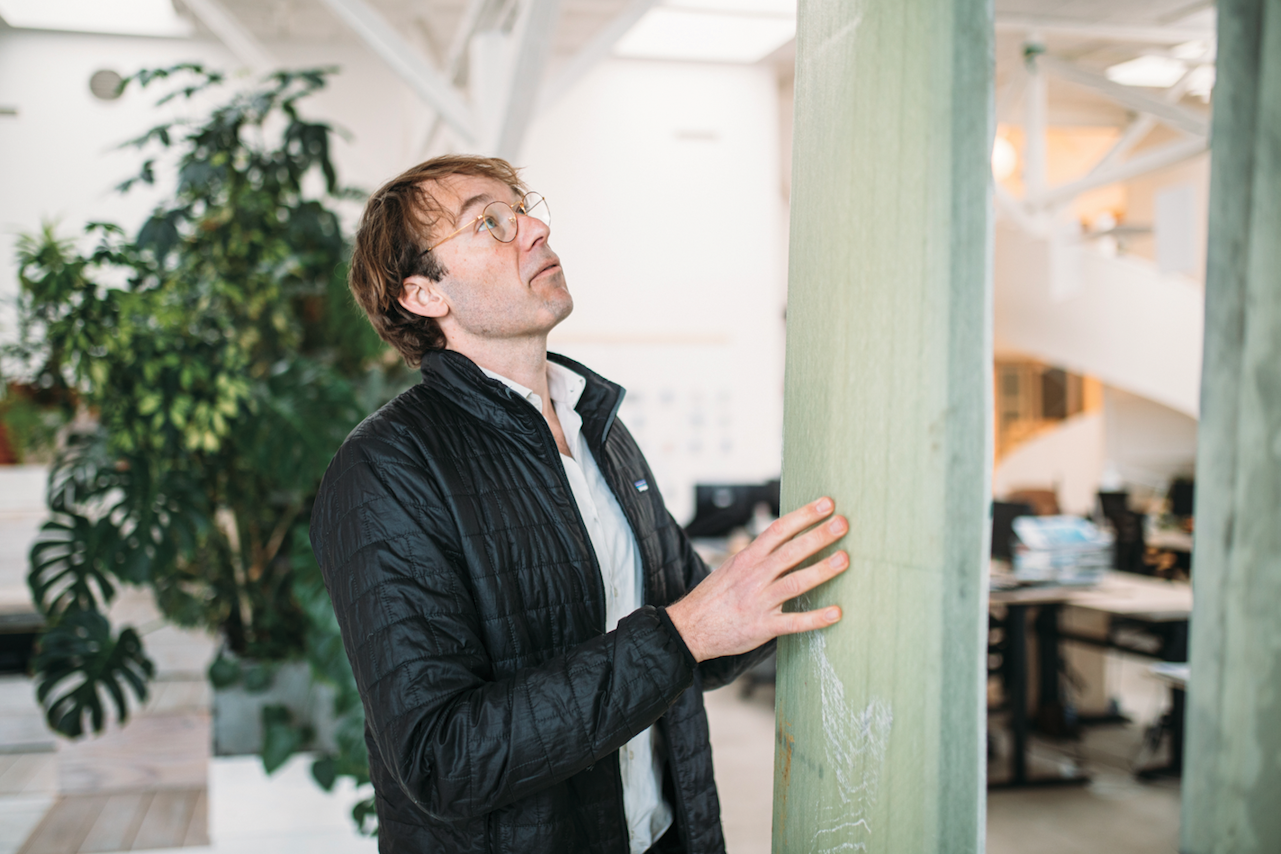 Besides being unusual buildings for nice city living, the Resource Rows, "Ressourcerækkerne" in Danish, situated in Copenhagen's Ørestad district, have a very special story. In collaboration with Carlsberg, Lendager Group has cut out brick modules from Carlsberg's historic breweries in Copenhagen, so that the history and soul of the old buildings is now continued in the Resource Rows. Other bricks in the project come from old schools and industrial buildings around Denmark.
In the Resource Rows, the architects have also used recycled wood waste from the construction of Copenhagen Metro for facades and interiors. The whole project was drafted by Lendager Group, a construction group that also supplied the upcycled materials for the buildings.
The project consists of 29 row houses and 63 apartments. Their most salient external features are the one-by-one-metre sections of masonry, forming a patchwork across their facades. These squares consist of both horizontal and vertical brick patterns.
"The Resource Rows is one of the world's first circular economic buildings realised commercially," says Anders Lendager, the construction group's CEO and architect MAA. Lendager Group has made a name for itself as being in the vanguard in applying sustainability and circular economic principles to architecture in practice.
"We have succeeded with that because we insist that it has to be cost-neutral. We consider economics as a very, very important, if not the most essential, component. We have to make sustainability and economics compatible and not contradictions," says Lendager.
Based on their experiences harvesting the sections of masonry for the Resource Rows, Lendager Group is now developing an automated solution for cutting out brickwork from decommissioned buildings.
"What if you could create a robot that could go in and cut up these buildings, that could 3D-scan them, plan to cut them down into those components that we have already drafted digitally into 3D-models in Revit, and turn a selective demolition into production by a robot? That is what we have begun developing with the robotics department at the Danish Technical University, creating a mechanism for optimising reuse as an extremely high-tech solution to something incredibly low tech, that is, to cut up a building," says Lendager.
TURNING OLD HOUSES INTO NEW BRICKS
According to the United Nations Environment Programme's 2019 Global Status Report for Buildings and Construction, the construction sector was responsible for 36% of global energy use and 39% of global energy-related CO2 emissions in 2018, or 23% of global emissions in total. Out of those emissions, 11% were just from the manufacturing of building materials. And these numbers had grown by 1% and 2% respectively since the year before.
These growing numbers represent what is referred to as "embodied carbon", meaning greenhouse emissions resulting from the production of the materials for and construction of buildings.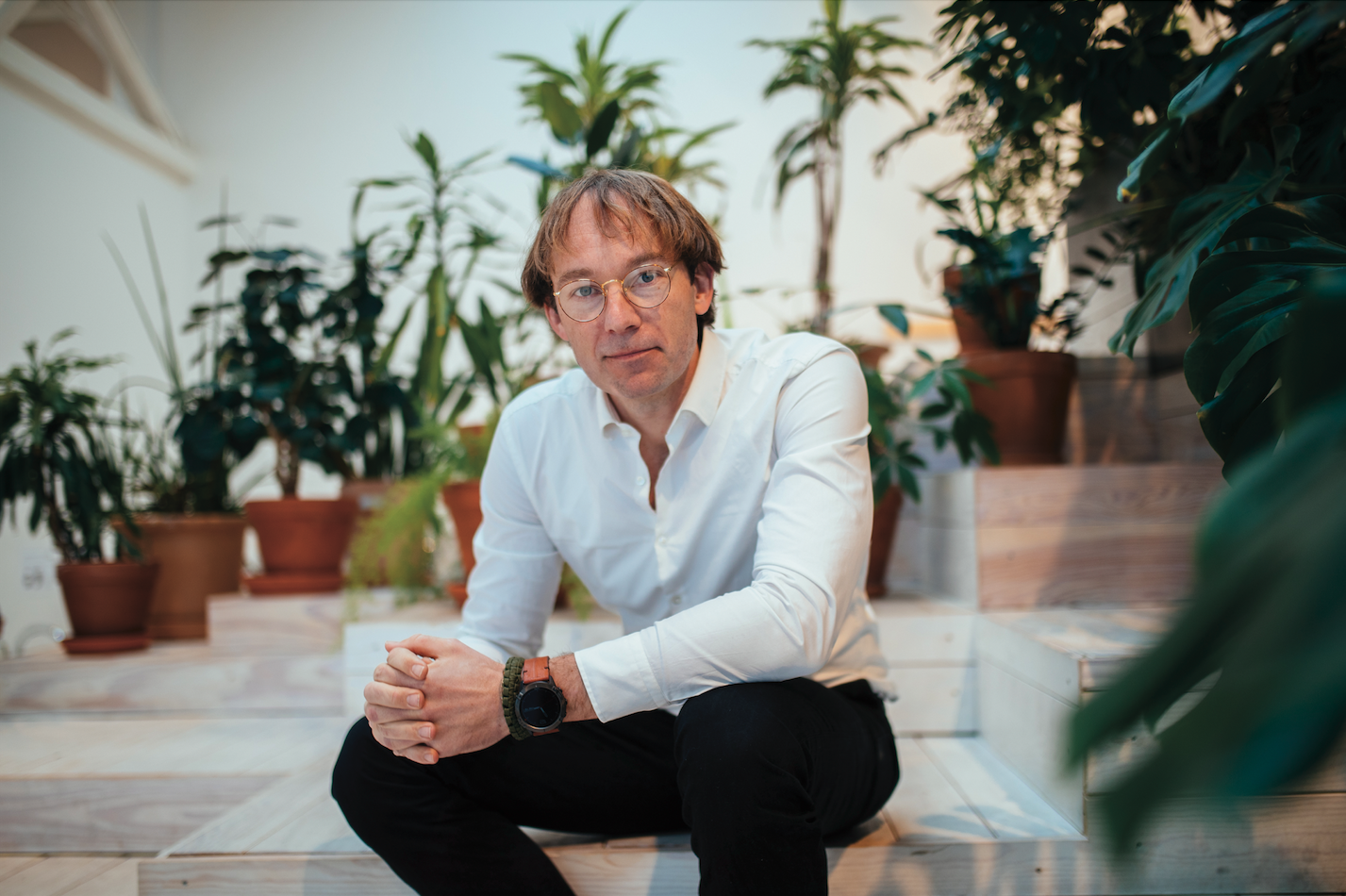 At the opposite end of a building's life cycle is the demolition process, where the amount of embodied carbon increases further as building materials are turned into waste. And the amount of construction waste produced in the world is staggering. According to the Danish Environmental Protection Agency, construction waste is the single largest proportion of waste in Denmark, amounting to one-third of the total waste production measured by weight. Similarly, according to the Agency, the construction sector uses one-third of the world's resources globally.
From a circular economy perspective, this is an opportunity for resource innovation, treating demolition as a form of production, shifting the paradigm of how con- struction waste is conceptualised and managed. "The big demolishers invest in finding out what their role is in not destroying and demolishing things, reducing their value, but creating value every time you take something down," says Lendager. However, even as the paradigm shifts, the construction industry confronts half a century of technical debt literally built into the structure of the houses scheduled for demolition, because since the middle of 20th century, brick houses have not been the same.
THE BRICK-AND-MORTAR BUSINESS
If you look at Danish brick houses built before the 1960s, the settling cracks that develop in the walls as the ground slowly moves under them tend to run along the mortar, whereas newer houses tend to crack through the bricks themselves. The reason for this is a major technology change that took place in masonry at the time: the switch from lime mortar to cement mortar.
Lime mortar is more elastic, porous and breathable than cement mortar, which on the other hand is stronger and more durable. Cement mortar also hardens faster, which provided an immediate efficiency benefit in the construction industry as masons could work faster. In Denmark, this technological change happened across the masonry profession in the 1960s.
This means that in modern brick houses built after the 1960s the mortar is the strongest element of the wall compared to the brick. And this has implications for the possibility of reusing building materials from demolished houses in new construction projects.
In fact, while recycled bricks can fetch a good price and are considered valuable raw materials for new buildings, it is close to impossible to clear off the mortar and reuse the bricks from houses built later than 1960 cost effectively because of the strength of the cement mortar. Currently, there is no way to remove cement mortar from bricks without damaging them. This means that valuable materials from demolished buildings are being downcycled into roadfills or landfills.
"That made us say, hey, that is something we need to find a solution for. And the solution was that we considered these existing buildings as a big piece of mass that you could cut big slices out of. And if you could cut big slices out of an old building, then you could move them and build with them," says Lendager.
Although the estimates vary, a recent study from The Danish Center for Social Science Research (VIVE) estimates that roughly 10-20,000 houses in Denmark, many in peripheral areas, are empty and ready for demolition. "We asked ourselves the question: Why is it that when you bring your dogs and cats, ugly vases and furniture, and children with you to your new home in the city, why don't you bring the building materials, when you have them available, instead of digging up virgin materials from mines? And that idea was refined by the fact that brick is one of the most expensive building materials we have, seen as a single object and in relation to its size," says Lendager.
SMALL STEPS FROM MANUAL TO AUTOMATIC DECONSTRUCTION
Upcycling otherwise unusable construction waste is a problem that Lendager Group has showed is solvable, as demonstrated in the facades of the Resource Rows. Scaling this solution is what the architects are now attempting to achieve by turning to automation.
"I had a vision together with Anders that you could build a robot that would scan a schematic and then scan the building and, seeing if the schematic and building are consistent with each other, calculate how to get the most square meters out of it. That is one way to build the machine. The other way is that you have an architectural project with some wishes, and you ask, how do I get elements cut out that matches those wishes and how much will it yield? And then it should just drive up to the facade and start picking. That is where we want to go, but it is not going to be as robotic in version 2.0," says Niklas Nolsøe, Head of R&D at Lendager Group and architect MAA.
Besides the practical challenge of cutting out specific sections of wall with a big diamond saw, the core problem that Lendager attempts to solve by automating is making it cost effective to produce the brick sections from the walls of decommissioned buildings. In this, the most expensive part is currently the person-hours involved in having two people manually cut out each section of wall, the practicalities of which Lendager Group learned from producing the individual sections for facades of the Resource Rows.
"We sat with building schematics and got an idea how much brickwork we could cut out. And we had a very manual process with a platform that went up and down and developed a cutting assemblage that was basically a square frame that you could run a diamond cutter through," says Nolsøe.
Building a robot to cut old buildings into brick sections that are usable for new construction is the end goal, but Lendager Group is taking the innovation process one step at a time. The next step is automating parts of the manual process. "Version 2.0 is the same as version 1.0 but streamlined and optimised. We are not all the way where we have a robot arm that can do it itself, with someone standing on the ground with a remote control. But that is where we are going," says Nolsøe.
Part of the reasoning behind this step-by-step approach is the sheer cost of physical process automation. Building a fully autonomous robot involves a lot of economic risk, and Lendager Group is committed to cost-neutral sustainable architectural solutions.
"I would call it semi-automation here in version 2.0, and version 3.0 can be a more automated solution, and then we have to see how far we can go and how expensive it becomes. In the end it all hinges on the brick sections dropping so much in price that it becomes worthwhile to build it back into a construction again," says Nolsøe.
Lendager Group is developing the automated solu-tion for harvesting sections of brick and concrete wall in collaboration with IPU and Tscherning with support from the Danish Environmental Protection Agency's development and demonstration programme.