Company Case
Cobot Lift re-thinks collaborative robot lifting applications with safe and flexible solutions for manufacturers
At the fast-expanding robotics company, Cobot Lift, Henrik Elm Gulløv is at the steering wheel as CEO and looks towards a bright future. Cobot Lift is reforming robot lifting applications for manufactures as we know it, with solutions that take up 1/5 of the space of industrial robots and can lift between 5-45kg payloads. Operating in 22 countries and counting, this robotics company is quickly gaining a strong foothold in supply chains all over the world.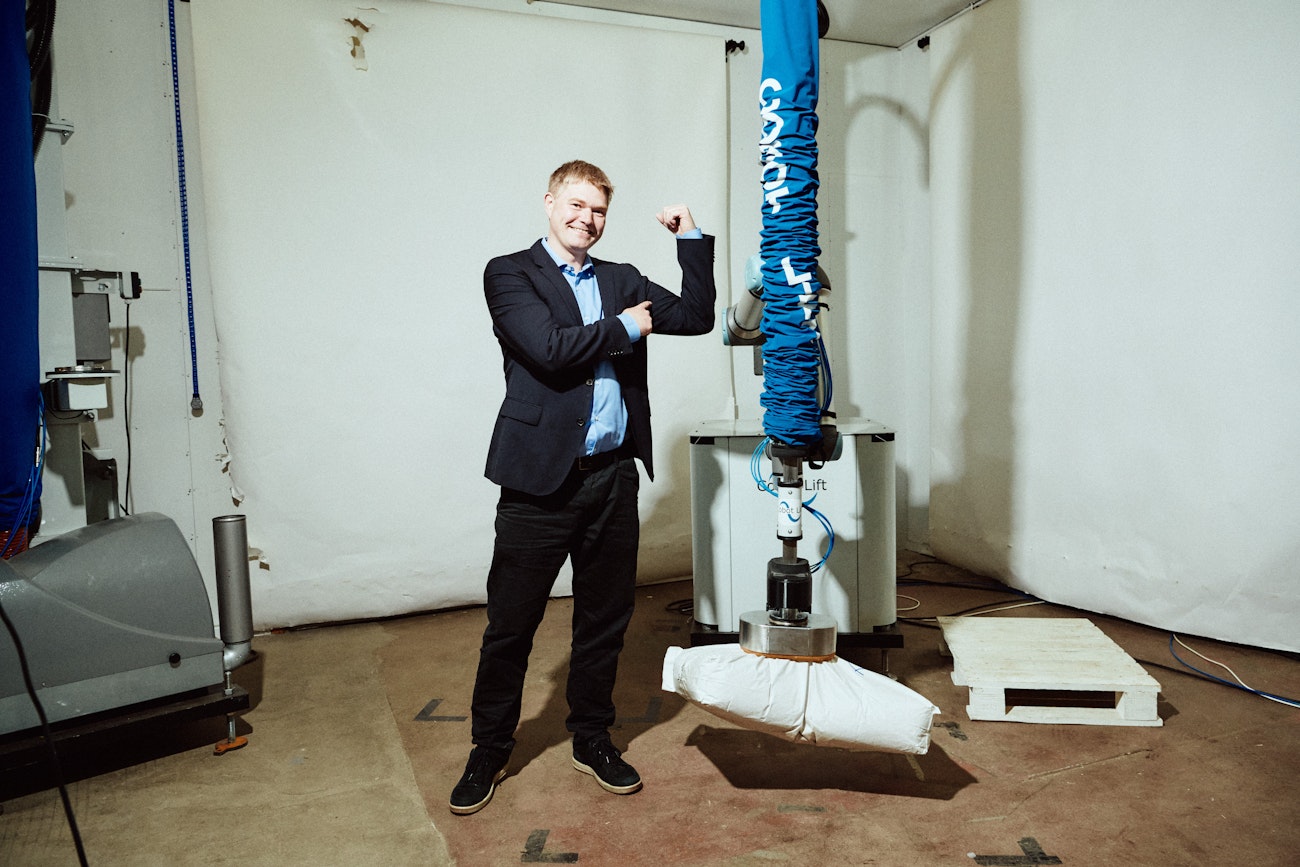 "The company was established in April 2018 and the journey from there has been incredibly exciting. In 2019, we grew with 400% in revenue and in 2020 we grew 300%. At the moment, we are expanding our distribution network one country per month, which is just unbelievable. Flemming Bischoff Truelsen, my co-founder, has a background as a machine builder and 25 years of experience in automation projects. The two of us together has been the best possible cocktail I could have ever dreamt about".
In the core of what we do, it's all about change and automation
"By combining a vacuum tube with a collaborative robot, we are making a combat-heavy lifting solution fit for fight. We give a robot that can lift 10kg muscles so it can lift 45kg. They are flexible and easy to move around, which adds additional reliability to the supply chain while you can operate the robots manually as well as fully automated. The manufacturers are given a new type of freedom within their production."
"Not only are our robots unique due to their size to power ratio, but our vacuum solution also makes it possible to pick and place sacks, which is rare in the lifting application world. Sacks are usually difficult to grip, but our solution makes it achievable. Palletizing and 'Pick and place' are problems we help solve, the difference is that Cobot Lift robots take up 1/5 of the space of industrial robots, are 40% cheaper, and very easy to install".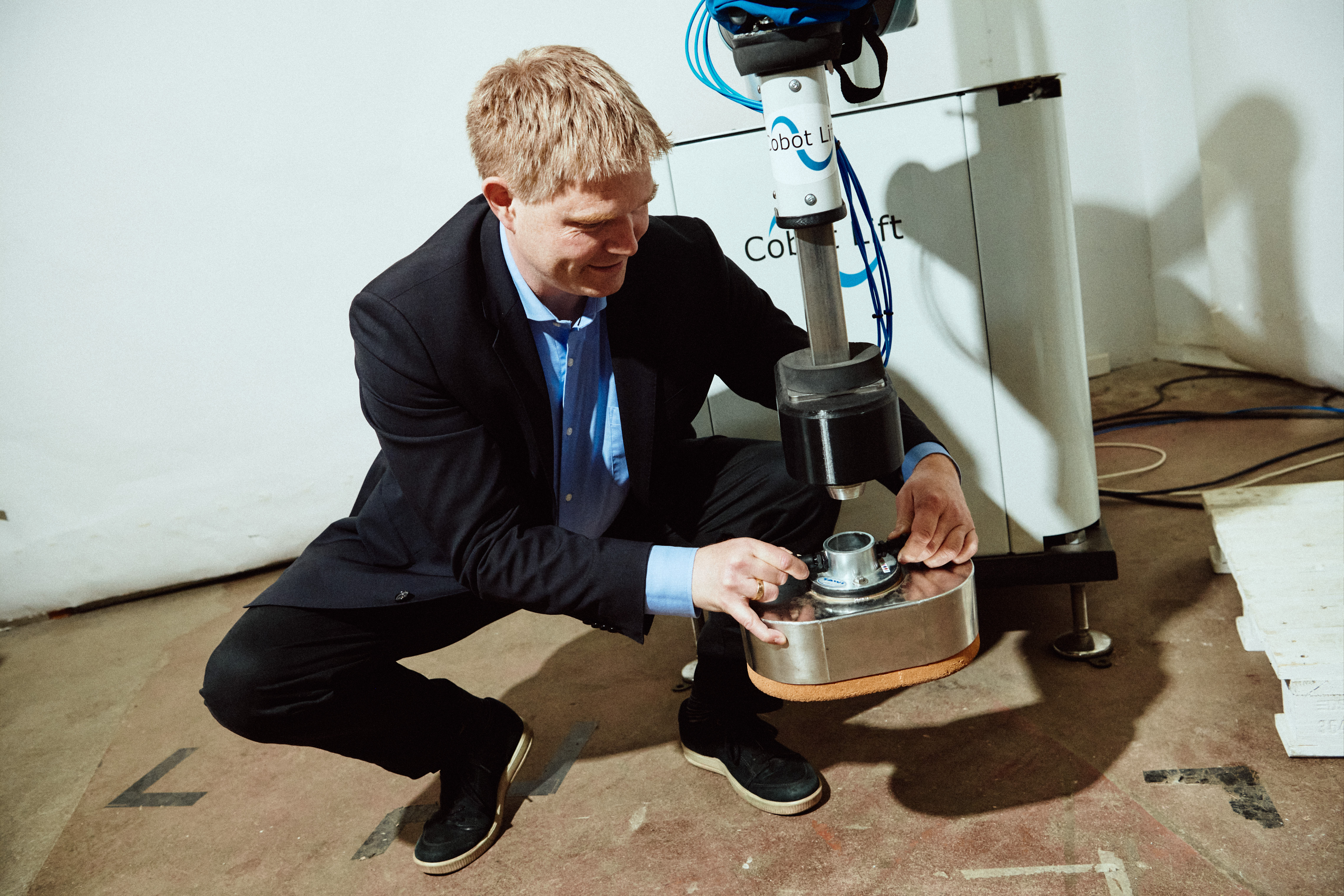 "In the core of what we do, it's all about change and automation. We see an exploding interest and need for automation across the globe especially in connection with the current pandemic in order to minimise the risk of contamination in supply chains. Ernst & Young have issued a survey during the corona crisis, which was made among 10,000 C-Class Executives and it showed that 75% was looking at or had already taken steps to reduce their risk of corona in their manufacturing lines and were looking into automation processes and accelerating their automation strategy."
"It's important that we see managers become thought leaders and that they have the courage to drive change by utilising low hanging fruits such as automation within their organisation. We need to move forward on a global scale and automation is one thing that will move companies forward."
I've had meetings in Norway, Ireland, Spain, and the US - all in the same day
"Many do not believe that our robots can lift the amount of weight that we promise due to the robots' small size and lightweight. Normally, we would travel across the globe to show distributors and end customers the possibilities with our solutions, and our experience is that they are beyond excited about the opportunities we provide."
"When corona caused the world to lockdown, we had to re-think our strategy. We weren't able to travel around and demonstrate in real-time what our robots can do. But we are in the business of change and had to rethink how we present our products. We have now started our own private TV channel, as we call it. Through video applications, we are now presenting and demonstrating our robots to potential customers. By giving live examples of how our solutions work we can give manufacturers a sense of what we can offer even though we are not physically there with them. This has actually been an incredible opportunity. I've had meetings in Norway, Ireland, Spain, and the US – all in the same day!"
"We went from being a victim of the corona crisis to becoming a player and using it to our advantage. Being a smaller company, we wouldn't have had the resources to travel to all those countries in the same period of time under normal circumstances. Via our virtual demonstrations, our business has expanded incredibly much and potentially reached a broader crowd".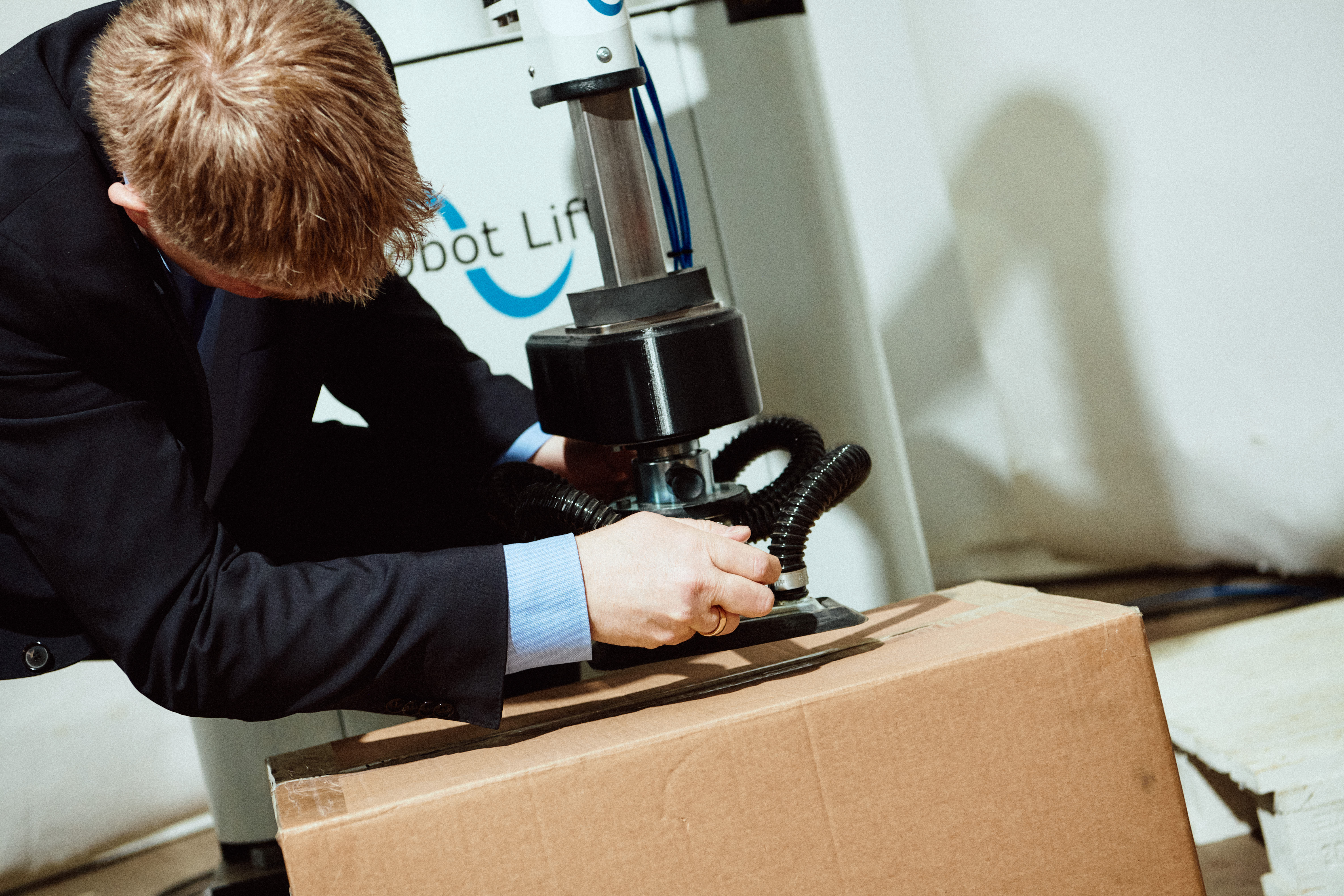 Quality of advice is high and access to soft funding is very good
"From the very beginning, we've experienced the Danish startup scene as very supportive and good at sharing knowledge. I wasn't aware of this before, but I must admit that I've been positively surprised. The quality of advice is high and the access to soft funding is good – but you have to, of course, be good at arguing your case."
"Experiences and information are shared between each other in the robotics startup environment and I think that this is one of the key success factors of the Danish robotics scene. Being a part of the ecosystem Odense Robotics, it's been possible to facilitate this kind of collaboration which has, honestly, been priceless. We share how each other run our businesses, how we expand to new markets, how we find new distributors and so on."
"Support throughout our journey has been very appreciated and one of the main reasons for our success so far. Recently we have received recognition through Business Hub Zealand via the project "Man-on-the-moon", where we are one of 20 selected companies that are believed to achieve a billion kroner revenue in 10 years. We can't wait to see what the future has in store for us."